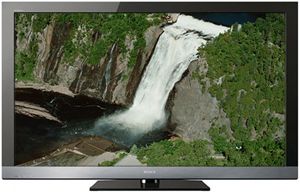 Question from Marie P.:  I have a 7 year old Sony 55-Inch Sony LCD TV that I like better than any TV I've ever owned.
The 55 inch size is just perfect for my living room, but now I can't use it because it's torn up.
My kids were horsing around and knocked it to the floor and now there's a long crack across the screen.
The TV will turn on but there's no picture. The screen just stays black. I can hear the sound though.
My question is do you think it would be cost effective to have this TV repaired or should I just grit my teeth and buy a new one?
Rick's answer:  I know how heartbreaking it can be when a favorite gadget gets damaged or simply stops working, Marie.
Under the right circumstances it can make sense to have the item repaired, but I'm afraid I'll have to recommend against it in this case.
Your 7 year old Sony was a great TV back in its day, but unfortunately it's now a dinosaur in "tech years".
In all likelihood it would cost you a lot more than that particular TV is worth to have it repaired. If it was mine I wouldn't do it.
My recommendation is to recycle your beloved Sony and spend your money on a new 55 inch TV that has more up-to-date features instead.
Most any local electronics retailer will have a decent selection for you to choose from, and Amazon has them as well (#ad) if you prefer shopping online.
I hope this helps, Marie. Good luck!
Update from Marie:  Thanks Rick. Your answer makes sense so I'm going to take your advice and buy a new TV.
Bonus tip #1: This post explains how to choose the best TV from a wall full of display models.
Bonus tip #2: Want to make sure you never miss one of my tips? It's easy! Just…
Click here to sign up for my free Rick's Daily Tips Email Newsletter!
---
Would you like to ask Rick a tech question? If so, click here and send it in!
If you found this post useful, would you mind helping me out by sharing it? Just click one of the handy social media sharing buttons below. Thanks a bunch!