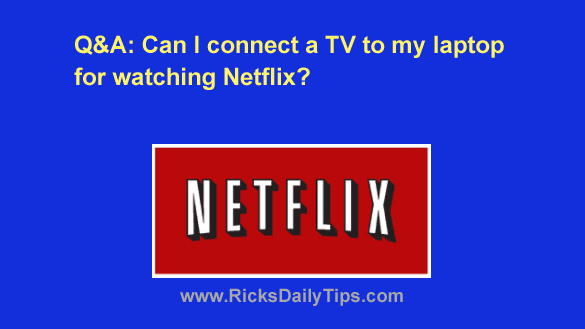 Question from Chad:  My laptop has a 13 inch screen, and I'd really like to have a much bigger screen to use when I'm watching Netflix.
I've been thinking about buying a 27 inch computer monitor to hook up to the laptop through the HDMI port, but I think I might have just found a better (well, at least a much cheaper) option.
I just found out that my cousin has a practically new 50 inch flat panel TV for sale.
He said he'd let me have it for $60 because he doesn't need it and it's just in his way. It's only a few months old and I'm pretty sure it's never been taken out of the box.
I know this TV has an HDMI input connector. Do you think it'll work with my laptop? I'd like to know for sure before I buy it.
Thanks in advance for your help!
Rick's answer:  
Yes Chad, your cousin's spare TV should work just fine with your laptop, and at $60 it sounds like an awesome deal.
This is only my opinion, but I think you should buy that TV for $60 even if you don't end up using it with your laptop.
$60 is dirt cheap for a practically new 50 inch flat panel television, and it would make a great "spare" in case your current TV goes out on you.
For the reasons stated in this post, I would never recommend using a 50 inch TV as a computer monitor if you were using it as the primary display. But I believe it'll be perfect for watching video via Netflix.
Bottom line: I do recommend that you shell out the $60 for your cousin's TV and hook it up to your laptop to see how it works out for you.
If you aren't happy with the results, simply set the TV aside to keep as a cheap "spare" television set.
I hope this helps Chad. Good luck!
---