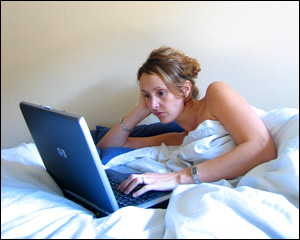 Obviously, one of the greatest benefits of owning a laptop computer is the ability to use it pretty much anywhere, including in bed.
But if you like to relax with your laptop while lying in bed, you'd be wise to never rest it directly on the bed itself or on a pillow.
Like desktop computers, laptops need an adequate amount of airflow over and around the internal components in order to prevent the build-up of damaging heat inside the case.
If you turn your laptop over and look at the bottom you'll see several vents that allow the internal fan to draw air into the case. This airflow cools the internal components by drawing heat away from them and blowing it out the exit vent. [Read more…]