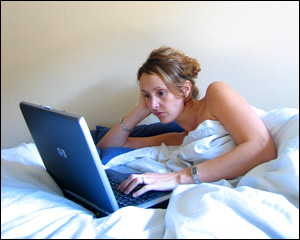 Obviously, one of the greatest benefits of owning a laptop computer is the ability to use it pretty much anywhere, including in bed.
But if you like to relax with your laptop while lying in bed, you'd be wise to never rest it directly on the bed itself or on a pillow.
Like desktop computers, laptops need an adequate amount of airflow over and around the internal components in order to prevent the build-up of damaging heat inside the case.
If you turn your laptop over and look at the bottom you'll see several vents that allow the internal fan to draw air into the case. This airflow cools the internal components by drawing heat away from them and blowing it out the exit vent.
Bed covers and pillows block the air intake vents on the bottom of the laptop, greatly reducing air flow and allowing the temperature inside the case to grow to damaging levels.
If you ask ten PC technicians to reveal the number one cause of preventable laptop hardware failure, I'm guessing that at least eight of them would say using the computer with it resting on a bed or pillow.
There is nothing wrong with wanting to use your laptop in bed. In fact, that's one of the most common places they are used  in homes and dorm rooms. If you happen to enjoy using yours while lying in bed, be sure to rest it on a lap desk, a large hardback book or some other hard, flat surface all the while that it is powered up. This will keep the air flowing and the bits flowing right along with it!
Bonus tip: Get my latest tips in my weekly RicksDailyTips Email Newsletter. Sign up at the bottom of this page!
Credits: Photo courtesy of Matthew Bowden.
Like this post? If so, I hope you'll consider sharing it with your friends.
And by the way, you can get even more tips in my weekly RicksDailyTips Email Newsletter. Sign up for free at the bottom of this page!