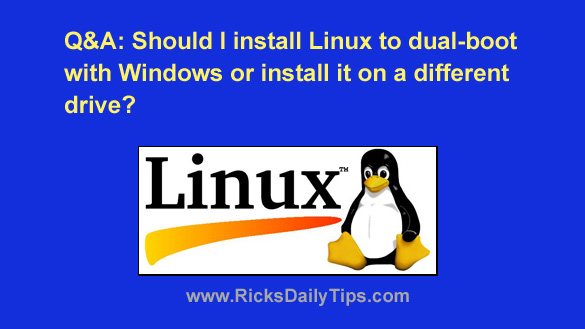 Question from Jackie D.:  Rick, I read your post about replacing Windows with Linux and I'd really like to give Ubuntu Linux a try. The thing is I don't want to get rid of Windows.
I read that you have a choice of either installing Ubuntu to dual-boot with Windows or placing it on a separate hard drive. I'd like to know which way you think I should go.
My computer is a Gateway desktop PC with an Intel Core i3 CPU and 8 Gigs of RAM.
This machine originally had a 750 GB hard drive with Windows 7 on it, but a while back I installed a 240GB SSD as the boot drive and left the hard drive connected as a secondary drive. I have also upgraded the Windows 7 to Windows 10.
My question is should I install Ubuntu on the SSD to dual-boot with Windows 10 or install it on the hard drive? And if I install it on the hard drive how will I tell the machine whether I want to boot into Windows or Ubuntu?
I know this is a long, drawn out question and I really appreciate you taking the time to help me decide which way I should go with this. Thanks a bunch!
Rick's answer:   [Read more…]