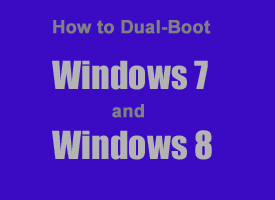 Do you want to install Windows 8 and still keep your existing Windows 7 installation too? Well, you can by setting up a dual boot system. Here's how:
1 – Purchase a copy of your preferred version of Windows 8. In order to set up a dual boot system you'll need to spring for a full retail copy, not a Windows 8 upgrade package.
If you buy Windows 8 in a brick and mortar store (say from Wal-Mart, Best Buy, etc.) you'll be all set to proceed once you get home with it. But if you buy it online and download the Windows 8 ISO file you'll need to burn it onto a blank DVD. Either way, once you have a Windows 8 installation disc at the ready, proceed to step 2.
2 – Click the Start button.
3 – Click Control Panel.
4 – Click System and Security.
5 – Click Administrative Tools.
6 – Double-click Computer Management.
7 – Double-click Disk Management.
8 – Right-click on the C: drive and then click Shrink volume after the system finishes analyzing the available drive space. Enter an amount by which you wish to shrink the volume. I recommend a minimum of 30GB.
9 – Reboot the system from the Windows 8 installation disc and install Windows 8 as you normally would.
After Windows 8 has been completely installed on your system, you'll be given the option to boot into either Windows 7 or Windows 8 every time you turn on or restart your PC!