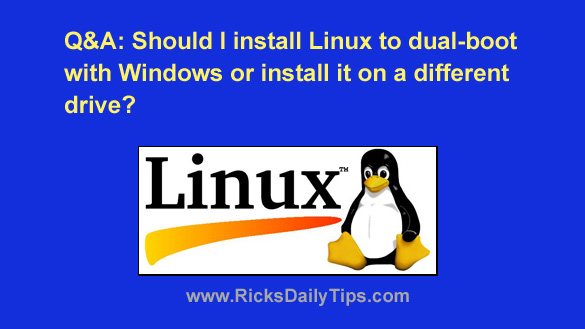 Question from Jackie D.:  Rick, I read your post about replacing Windows with Linux and I'd really like to give Ubuntu Linux a try. The thing is I don't want to get rid of Windows.
I read that you have a choice of either installing Ubuntu to dual-boot with Windows or placing it on a separate hard drive. I'd like to know which way you think I should go.
My computer is a Gateway desktop PC with an Intel Core i3 CPU and 8 Gigs of RAM.
This machine originally had a 750 GB hard drive with Windows 7 on it, but a while back I installed a 240GB SSD as the boot drive and left the hard drive connected as a secondary drive. I have also upgraded the Windows 7 to Windows 10.
My question is should I install Ubuntu on the SSD to dual-boot with Windows 10 or install it on the hard drive? And if I install it on the hard drive how will I tell the machine whether I want to boot into Windows or Ubuntu?
I know this is a long, drawn out question and I really appreciate you taking the time to help me decide which way I should go with this. Thanks a bunch!
Rick's answer:  I get asked this question fairly often Jackie, and my answer is always the same: I believe it's best to avoid dual-booting whenever possible.
Since your PC has two mass storage drives, it will be very easy for you to install Ubuntu Linux on its own hard drive.
Yes, you'll take a performance hit by placing Ubuntu on a spinning hard drive instead of the SSD, but I think that's the best way for you to go, for the following reasons:
1 – Your SSD is relatively small at just 240GB, so adding a new Ubuntu installation alongside your existing Windows 10 installation could leave very little, if any unused space on that drive if you have a lot of programs and/or data on it.
For technical reasons an SSD needs to have a little empty space left on it for what I like to call "breathing room". Therefore, installing Ubuntu on that smaller drive could cause problems for you at some point.
2 – Keeping Windows and Ubuntu on separate drives will ensure that a single drive failure won't take out both of your operating systems in one fell swoop.
Getting things back to normal will simply involve replacing the bad drive, re-installing the operating system that was on it and then restoring your files.
You won't have to be in a big hurry to replace a bad drive either because you'll still be able to use your computer by booting it up into the other operating system.
3 – If you ever decide that you no longer want to use either Windows or Linux you'll be able to remove that operating system from its drive without affecting the other operating system in any way.
After Ubuntu is installed on your computer's hard drive you'll be able to select the operating system you wish to boot the machine into from a Boot Menu by simply pressing a special key during the POST process.
The key that displays the Boot Menu varies from one computer brand and model to another, but since your PC is a Gateway I'm guessing that you'll need to press the F12 key.
If you ultimately decide to install Ubuntu onto the hard drive, I recommend that you copy any files that you don't want to lose off your PC's hard drive onto some type of backup medium, then format the drive. That will allow you to install Ubuntu fresh onto an empty drive.
Optional, but also recommended: You can create a separate partition on your hard drive to hold the data files that you'll be using with your Windows installation. I believe you'll find that useful since your Windows drive (the SSD) is so small.
Bonus tip #1: Since they're so inexpensive now, you might want to consider installing a second small SSD (#ad) just to hold your Ubuntu installation.
That way you'd be able to enjoy the awesome speed advantage of an SSD while still avoiding any potential issues that might arise due to a dual-boot situation.
Bonus tip #2: This post lists free Linux replacements for several popular Windows programs.
Bonus tip #3: Want to make sure you never miss one of my tips? It's easy! Just…
Click here to sign up for my free Rick's Daily Tips Email Newsletter!
---
Would you like to ask Rick a tech question? If so, click here and send it in!
If you found this post useful, would you mind helping me out by sharing it? Just click one of the handy social media sharing buttons below. Thanks a bunch!