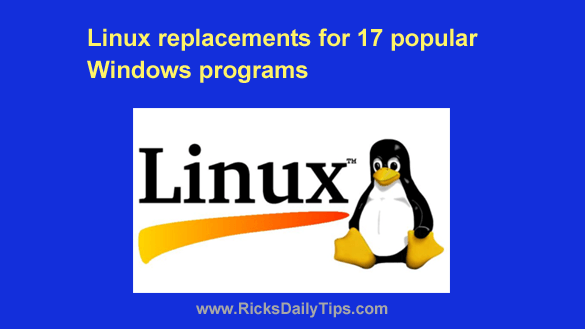 A while back I wrote a post explaining how to give an old PC new life by replacing Windows with Linux as a means of extending the useful life of older PCs.
After that post was published I received a number of emails asking for a list of Linux programs that can replace the Windows programs they'd leaving behind if they made the switch.
I decided that it might be a good idea to publish that list in its own blog post, and here it is: 
Note: All links will open in a new window to make it easy for you to return to this list.
Windows program > Linux replacement
Note: Be aware that while these Linux replacements will do most everything that their Windows counterparts do, there will usually be a learning curve involved when you make the switch, and in some cases that learning curve can be fairly steep.
While this isn't an exhaustive list, it covers many of the most popular Windows software packages in use today. If there's a specific Windows program that you use that isn't listed here, contact me and I'll see if I can track down a suitable Linux replacement for you.
And finally, instead of just wiping your hard drive and installing Linux cold turkey, it's probably best to keep Windows on your system and run Linux from the Live CD/USB drive until you have learned enough about your replacement programs to get your essential duties done in an efficient manner.
Bonus tip: This post explains why I use Linux Mint on my own Linux machines and recommend it instead of Ubuntu for most users.
---