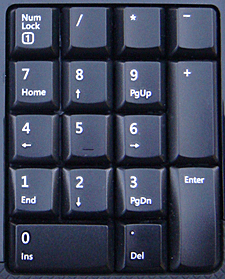 Question from Marc E.:  Hi Rick. I hope you can help me with a keyboard issue that I'm struggling with on my Lenovo ThinkCentre 3493GPU desktop computer with Windows 7 Pro.
It all started when I downloaded a game on to the desktop PC for my 5 year old to play while I'm working on my laptop. Now the number keys on the numeric keypad won't work. When I press a key the mouse cursor will move just a tiny bit, but nothing shows up on the screen. The rest of the keyboard works fine.
Whatever happened seems to have just affected the numeric keypad and nothing else. Even the number keys located above the letter keys are working.
Uninstalling the game didn't help, and neither did a System Restore. Do you have any ideas about what I can do to fix this? Thanks in advance for your help.
Rick's answer:   [Read more…]