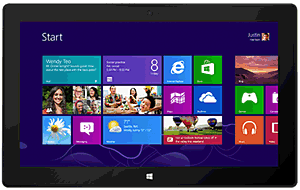 Question from Hannah G.:  I have a Surface RTand I've been wanting to buy a keyboard for it, but they're a little pricey. And they don't look all that well made either.
I noticed today that the RT has a full size USB port. Can I just buy a cheap USB keyboard that's made for a PC and plug it into it?
Rick's answer:  Yes you can, Hannah. The USB port on the Surface RT (actually, on all Surface tablets) can be used to connect standard USB keyboards, mice, external hard drives, flash drives, printers…pretty much any USB device you can think of. If it's compatible with Windows 8.1, it'll work with your Surface RT.
The only real downside to connecting USB devices to a Surface tablet is there's just one USB port. But if you buy a powered USB hub you'll be able to connect multiple devices to your tablet with no problems whatsoever.
---
Do you have a tech question of your own for Rick? Click here and send it in!