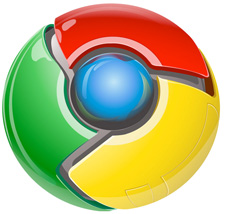 Have you ever noticed the little arrows at the top and bottom of your web browser's vertical scroll bar? Clicking and holding one of those arrows will cause the current web page to scroll up or down, but if you don't use them you might not even realize they are there.
But if you do use the scroll arrows, you'd probably feel lost without them.
Well guess what? If you update Google Chrome to version 32 you'll discover that the scroll arrows have been removed. 
For whatever reason, Google decided to remove them from the latest version of Chrome, and they have no intention of putting them back any time soon.
But there's good news: If you use Chrome and prefer scrolling your web pages up and down with the arrows, you can easily restore them by installing a handy Chrome browser extension called Win7 Scrollbars. Here's how:
1 – Visit this page with your Chrome browser.
2 – Click the blue button that's labeled FREE. A confirmation box will pop up on the screen.
3 – Click the Add button in the confirmation box. A notification will pop up letting you know that the extension has been added to Chrome.
4 – Close all open Chrome windows.
5 – Now reopen Chrome and you should see that the vertical scroll bar arrows have been restored.