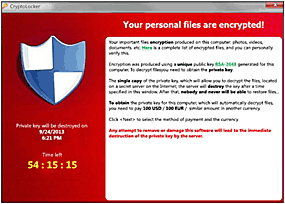 CryptoLocker is an especially insidious form of "Ransomeware" – malware that basically locks up all the user data on your computer's drives until you fork over some cash to a far-away crook.
What makes CryptoLocker so bad is the way it encrypts the user data on your hard drive using a super-strong encryption method. This makes it literally impossible to access your own data without forking over a bundle of cash in exchange for the unlock key.
The key to protecting yourself from CryptoLocker lies in prevention because even though there are several "cures" being hawked on the Internet, their effectiveness varies when they work at all.
Here are are a few things you can do to prevent your PC from getting infected with the CryptoLocker virus, and recover from it if you still end up getting hit:  [Read more…]