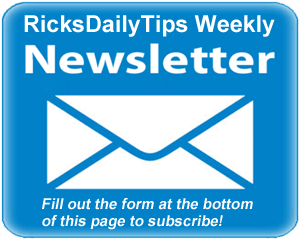 Hello again everyone. I hope you all had a great week!
Facebook has approximately 1.5 billion active users, making it by far the most popular social media community in the world.
As I'm sure you already know, the numerous features of the Facebook website make it easy for that vast community of users to share photos, news and information with one another, and indeed with the world.
Unfortunately, all of those features tend to make the Facebook user interface both non-intuitive and frustrating at times.
As luck would have it, there are several fantastic extensions for the Chrome web browser that can help mitigate some of Facebook's biggest annoyances. I'd like to take this opportunity to tell you about three of my favorites. 
Note: All of the Chrome extensions mentioned below are free of charge. All you have to do is visit the page for each extension in the Chrome Web Store and click the "Add To Chrome" button to install them.
The links that follow will give you more detailed information about the extensions as well as their download links:
1 – Facebook Purity – This is perhaps the most useful Facebook-related Chrome extension on the planet. It offers tons of fixes and tweaks for many of Facebook's irritations, but I use it primarily to keep Facebook from switching my newsfeed from "Most Recent" to "Top Stories" throughout the day.
Before I installed Facebook Purity, my newsfeed would change from "Most Recent" to "Top Stories" several times a day, and it really drove me up the wall. But that hasn't happened a single time since I installed this extension!
2 – Facebook Unseen – Every week I receive emails from several readers asking how they can prevent their friends from finding out that their chat messages and instant messages have been read. My answer is always the same: Install the fantastic Facebook Unseen extension.
Once you add Facebook Unseen to Chrome, you'll be able to read your messages as they come in and respond at a time that's more convenient to you (or even not respond at all) and the senders will never be notified that you have read their messages.
3 – The Flatbook – When it comes to the user interface, Facebook leaves a lot to be desired. The newsfeed often resembles a jumbled mess and the sidebars are chock full of links of every type along with some annoying ads.
The awesome Flatbook Chrome extension cleans up and streamlines your Facebook experience, making everything a lot less cluttered and easier to read. What's more, you'll never see another ad!
4 – (Bonus tip) – This tip doesn't involve a browser extension, but it will help you avoid one of Facebook's most dangerous annoyances: getting your account hacked. Actually, I've compiled several tips that can help you thwart the hackers, and you'll find them all right here.
Well, that's it for this week. If you have a tech question that you would like for me to answer, click here and send it in!
Special note: As a subscriber to the RicksDailyTips Tech Newsletter you're automatically entered to win one of my monthly Tech Gear Giveaways. Monthly winners are announced in the first newsletter of the following month.
Congrats to Gail M. of Fall River, MA for winning a handy Samsung T1 Portable 500GB USB 3.0 External SSD in May's Tech Gear Giveaway.
June's winner will receive a fantastic Vido W8X 8″ Windows 10 Tablet PC.
Not a subscriber to my newsletter? Fill out the short subscription form below to receive my weekly newsletter by email and be automatically entered for my monthly Tech Gear Giveaways!
I hope you found this edition of the newsletter useful and interesting. If so, I hope you'll consider passing it on to any of your friends and associates who might enjoy reading it as well.
Thanks a bunch,
Rick Rouse
Website: www.RicksDailyTips.com
Follow me on Facebook: www.Facebook.com/RicksDailyTips
Follow me on Twitter: www.Twitter.com/RicksDailyTips