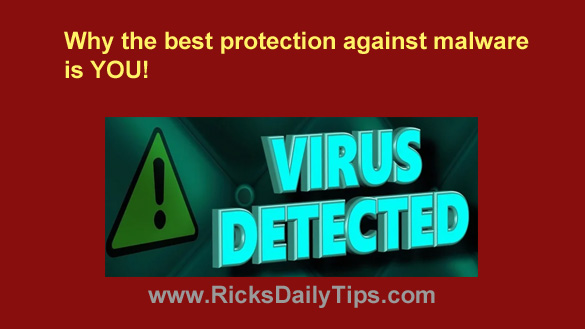 Regular readers of this blog know that many of my posts stress the importance of running regular malware scans to keep your system free of digital nasties.
But as important as anti-malware software apps are at keeping your PC malware-free, the best protection against viruses, spyware, ransomware and other malicious forms of software has nothing to do with your computer itself.
The best tool you can ever have in your security arsenal is you! 
While most malicious code will indeed be blocked by your security apps, there will always be new strains of malware that can slip past their defenses.
Luckily, it's fairly easy to steer clear of the most common sources of malicious code if you know what to look out for. Here are a few tips:
1 – Pay close attention to the emails that land in your inbox.
Any message that instructs you to click a link to log in to an online account to update your information is virtually guaranteed to be fraudulent. Ignore those types of emails regardless of how authentic they might happen to look.
If your information truly needs to be updated, you'll be alerted to that fact the next time you log into your account from a bookmark or known-good URL.
Also, be extremely careful about opening any attachments that might be lurking inside an email.
Personally, I never open any attachments at all unless I know (and trust) the sender and I can verify that he/she truly sent the email by calling them, sending them a Facebook message or using some other non-email method of communication.
Never ask for verification that an attachment is legit by simply replying to the suspect email itself.
Email addresses are easily spoofed and you could easily end up asking a scammer if the email he sent to you is legitimate. And of course we can both guess what the answer will be.
This post offers some tips for spotting and avoiding fraudulent email messages.
2 – Beware of links posted in online forums, chat rooms or other Internet venues where strangers correspond with one another.
It's extremely easy for a hacker/scammer to post a malicious link in response to an earnest request for advice or assistance.
If you're engaging in a forum you know and trust, it's ok to click links to websites that you are familiar with and know to be legitimate. Just be sure to hover your mouse over the link before you click on it to make sure the link will really take you to the website you expect it to.
3 – Steer clear of the "bad neighborhoods" that are so ubiquitous on the Internet. Gambling and porn sites top the list of course, but fake news sites are also spreading malware these days.
And whatever you do, don't download ANYTHING from a torrent site. Regardless of how tempted you might be to download the latest hot game or commercial software program for free, don't do it!
Any commercial program being made available for free on a torrent site is likely to be riddled with viruses.
What's more, those types of downloads are illegal and they could potentially land you in hot water with the authorities even if the download itself turns out to be malware-free.
4 – When using your mobile phone, avoid tapping links in text messages. Texts are being used to spread malware these days, and it's so easy to fall for a malicious link that shows up in a text.
Also, avoid installing apps from any venue other than the official Google Play Store, iTunes or the Microsoft Store.
While malicious apps occasionally make it into those official app stores, they are usually quickly discovered and removed while bad apps can remain on many third-party download sites indefinitely.
5 – In sports they say the best defense is a great offense, and the same goes for the Internet world.
That's why it's important to always have a recent backup on hand just in case you ever do end up with a nasty malware infection that renders your Windows installation unstable or unusable.
After all, none of us are perfect and security software isn't either.
You can easily back up your PC's hard drive by creating frequent System Image Backups. They are easy to create and the process is virtually hands-off once you get it started.
You can also easily back up your iPhone or iPad to iCloud and back up your Android devices in one of several ways.
If you have a Mac you can use the Time Machine utility to back it up.
Bottom line: All the security software in the world can't completely protect your computer and mobile devices from malware if you use those devices in an unsafe manner.
That's why the best protection against malware will always be YOU!
---