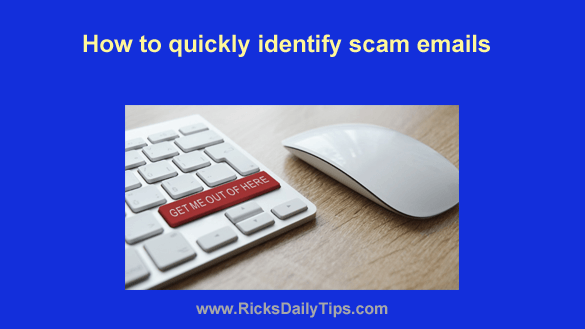 As you probably know, scammers and hackers have been using fraudulent emails to practice their illicit trade ever since the invention of email itself.
Unfortunately, government regulations and cyber-security measures have done little to prevent malicious emails from making their way into our inboxes.
Even worse, many scammers and hackers are now very good at creating fake emails that are difficult to distinguish from the real emails we receive from banks, PayPal and other online services on a daily basis.
And as a result, more people are falling victim to scammers every day.
But there's also good news: It's fairly easy to tell most fake emails from the real ones if you know what to look for. Here are a few tips:
Note: I'll use PayPal in some of the examples below because most everyone has a PayPal account nowadays, and PayPal customers are constantly being targeted by scammers.
1 – No reputable online company will include a form right in an email for you to sign in to your account or change your password.
Therefore, if you receive ANY email that contains a sign-in form or password change form, it's a fake. Always. There are no exceptions.
2 – No reputable company will use blurry, unclear images in an email. If you receive an email that's supposedly from PayPal or some other online service that includes even one blurry image, the email is almost certainly fraudulent.
3 – No reputable company will send you an email that's filled with spelling, grammar or punctuation errors.
Most companies that do business in the United Stated States employ people who are fluent in English to craft their written communications, and that includes foreign companies that do business with Americans via the Internet. Therefore, any poorly written email is almost certainly a fake.
4 – Any reputable company that sends you an email will address you by your name if you have an online account with them. Therefore, if you receive an email that begins with something like "Dear Valued PayPal User,…", that email is almost certainly fraudulent.
5 – While there are rare exceptions, most companies that conduct business online send emails to their customers from their own website domain. For example, an email from PayPal will always have paypal.com in the sender's email address.
You need to be careful here however. Some scammers will try to fake you out by including a company's official domain name somewhere in the email address, but it won't be that company's true official domain name.
For example, if you receive an email that appears to be from PayPal but the sender's email address ends with @secure-paypal.com instead of just @paypal.com, you'll know right away that the email is fraudulent.
6 – Be careful when clicking links in an email unless the email is from a trusted sender and you know it to be legit.
Links are extremely easy to mask, and all it takes is clicking on one fraudulent link to accidentally visit a fake website that will steal your login information or load malware onto your computer.
For example, an email might contain text that says something like "click here to visit the PayPal website", with the words "click here" underlined to let you know they are linked to a web page.
Clicking that link will take you to a web page, but there's no guarantee that you'll end up on a page on the real PayPal website.
Luckily, you can easily find the true URL (the web address of the page the link will actually take you to) by simply hovering your mouse over the linked text and looking at the bottom-left corner of the browser window.
If the URL that pops up at in the bottom-left corner of the window doesn't include https://www.paypal.com, both the link itself and the email that contains it are fraudulent.
Again, the only exception to this rule is newsletters and other email services that you signed up for and know for a fact to be legitimate. Links in all other emails should be avoided like the plague.
Bottom line: Careful use of the tips mentioned above can help you avoid falling victim to fake emails.
By following one simple rule, you can easily avoid most any email scam: Avoid clicking on ANY links in an email, even if you believe the email to be real.
Bottom line: With the exception of email address verification emails like the ones you receive when you sign up for a new online account and email newsletters that you intentionally signed up for (those emails are actually legitimate), you can usually accomplish any task you need to complete by logging into the website directly and using the site's navigation links to get to the page you need.
---