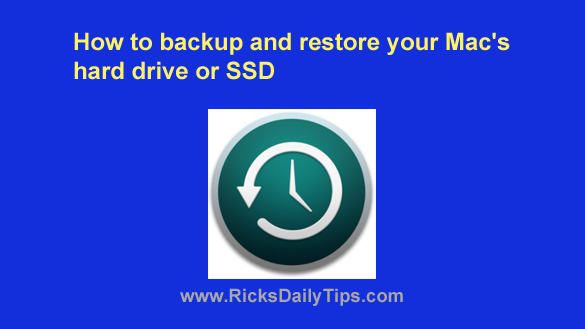 Most Windows users know how important it is to always have a recent backup on hand in case their PC's hard drive or SSD goes south on them or some other disaster strikes.
Well, truth be told, it's just as important to keep the hard drive or SSD in your Mac backed up as well.
Luckily, your Mac is equipped with a fantastic backup utility called Time Machine, and it's very easy to use.
Just follow the steps below to create regular backups and/or restore your files if the need ever arises.
How to back up your Mac with Time Machine…
1 – Plug an external hard drive into your Mac's USB, FireWire, or Thunderbolt port (depending on the type of interface the drive supports).
2 – If a window pops up asking if you want to use the external drive to back up with Time Machine, click Use as Backup Disk.
Note: You'll have the option to encrypt the contents of the backup if you want. Just be sure not to lose the password if you choose to use encryption!
3 – If you aren't asked if you want to use the external drive to back up with Time Machine, click the Apple icon on the left-hand side of the top menu bar.
4 – Click System Preferences>Time Machine.
5 – Click Select Backup Disk, then choose a backup disk from the list and click Use Disk.
That's all there is to it. Time Machine will now start creating automatic backups on a preset schedule.
If you want to create a backup right now instead of waiting for the first scheduled backup to begin, simply select Back Up Now from the Time Machine menu.
How to restore your Mac from a Time Machine backup…
After you have at least one Time Machine backup stored on your external drive you'll be able to use it to restore your system if something goes wrong.
You can choose from two different kinds of restore procedures: Restore specific files and Restore the entire drive.
If you just need to restore a specific file (or several for that matter), follow these steps:
1 – Open the Time Machine utility.
2 – Select the file(s) you wish to restore.
3 – Click Restore.
If you need to restore the entire drive you can do so using macOS Recovery.
Conclusion…
That's all there is to it. Now you know how to use Apple's handy Time Machine utility to back up and/or restore your Mac's hard drive or SSD.
Bonus tip: This post explains how to boot your Mac into Safe Mode for troubleshooting stubborn issues with the operating system.
---