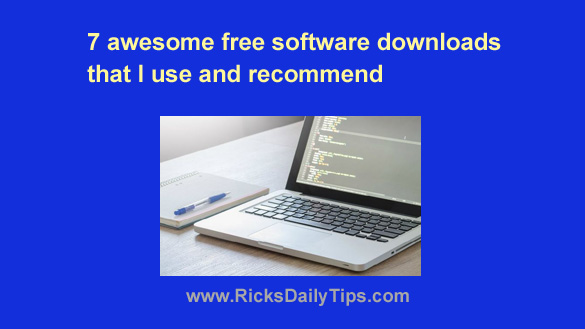 The methods used to distribute software programs to the masses have changed quite a bit over the years.
Back in the early days of personal computing, software was usually distributed in one of three ways:
1 – We could buy a program outright and use it for as long as we wanted to without having to make any further payments.
Eventually the software companies figured out that most of us would be willing to shell out our hard-earned dollars on a regular basis to buy "upgraded" versions of our software.
That's why many folks pay out the nose once a year or so for the privilege of installing the "new and improved" versions of their favorite programs.
2 – We could buy a floppy disk that contained a "shareware" version of a program to see if we liked it. We basically paid for the disk the software was distributed on plus a very small fee to cover the labor involved with copying the program onto the disk.
These shareware programs were typically full versions of the program with all the features active and working, and with no time limit on how long we could use the program.
The catch with shareware was that while the program was running we would see "nag screens" that asked us to make a monetary "donation" to the program's author. The reward for donating was usually a second working copy of the program that didn't include the nag screens.
Over time the shareware model of software distribution was replaced with what we now recognize as "trialware".
Software distributed as trialware usually either comes with certain key features disabled or its use is subject to a short "trial period" after which the software will stop functioning at all.
If you want to use all of the program's features or continue using the software at all after the trial period expires, you have to shell out some bucks for a "full version" copy of the software.
3 – Much like it is today, some software was distributed as "freeware", typically on a floppy disk. The program's author usually didn't make any requests for a donation or other type of payment, but these free programs were typically buggy and unreliable and/or they contained advertisements of one type or another.
Freeware is still with us today, but with a couple of important changes. First, the floppy disks (and CDs) of days past have given way to Internet downloads. And more importantly, much of the "freeware" that's available today is actually great software that would really be worth paying for if the author had asked us to.
That pretty much sums up the ways in which software distribution methods have changed over the years.
As regular readers of my blog already know, I'm a huge fan of free software. This week I'd like to tell you about a few of my favorite freeware programs. Here goes:
Notes: The links in this section will open in a new window to make it easy to return to this page. While all the programs listed below are available for free, some of them are also available in premium (i.e. paid) versions. I personally use and recommend the free versions of all of the listed programs.
1 – Autoruns – Most seasoned Windows users are familiar with the way Windows allows us to prevent certain programs from automatically loading when Windows boots up, but Autoruns gives you a LOT more control over which programs and processes you wish to have loading automatically. Click here for more information about Autoruns (along with the download link).
2 – Startup Delayer – The aforementioned Autoruns will let you prevent programs that don't need to load every time Windows boots up from doing so, but there are some programs (an antivirus suite for example) that do need to start up automatically so they can run in the background while you're using your PC for other things.
Startup Delayer will allow those important programs to start up automatically, but it forces them to load after Windows itself has finished loading. This speeds up your PC's boot time, often by a considerable margin. Click here for more information about Startup Delayer.
3 – CCleaner – Over time every Windows installation gets clogged up and becomes bogged down by orphaned files, bloated temp folders and other forms of clutter. CCleaner will safely clean out the clutter and make your system run (almost) like new again. Click here for more information about CCleaner.
4 – AdwCleaner – Have you noticed that your web browsers seem to have accumulated a number of unwanted toolbars? Are you constantly seeing pop-up ads or having your browser take you to unexpected places on the web?
If so, you need to download and run a fantastic tool called AdwCleaner. It'll wipe out all of those toolbars and get rid of the adware that's causing most (and possibly all) of those frustrating pop-ups. Click here for more information about AdwCleaner.
5 – Process Explorer – If you've been using Windows for a while you might be familiar with the Task Manager, a handy Windows utility that lets you view and manage the programs and processes that are running on your PC at any given time.
Microsoft has improved the Task Manager quite a bit over the years, and the Task Manager in Windows 10 is actually quite good. That being said, there's a powerful free replacement for the Windows Task Manager called Process Explorer that is absolutely fantastic. Click here to read more about it.
6 – Avast Antivirus – It's essential that you install a quality antivirus program on your PC and keep it updated at all times. I've personally used Avast for many years, and I highly recommend it to others. Click here for more information about Avast Antivirus.
7 – Malwarebytes – In addition to your regular full-time antivirus software, I also recommend that you periodically use an on-demand malware scanner. In my humble opinion, Malwarebytes simply cannot be beat. Click here for more information about Malwarebytes.
Well, there you have it. The seven programs mentioned above are tried and true tools that I've used for years, and I highly recommend them to you as well!
Bonus tip: Want to make sure you never miss one of my tips? It's easy! Just…
Click here to sign up for my free Rick's Daily Tips Email Newsletter!
---
Would you like to ask Rick a tech question? If so, click here and send it in!
If you found this post useful, would you mind helping me out by sharing it? Just click one of the handy social media sharing buttons below. Thanks a bunch!