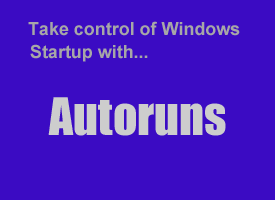 Microsoft was kind enough to provide a utility called MSCONFIG that allows us to determine and control which programs Windows loads at Startup, but it is woefully lacking.
While MSCONFIG does list a handful of the applications that start up automatically, it doesn't provide anywhere near a full list of all the independent processes that load into memory with every boot-up and consume precious CPU clock cycles.
Luckily, there is a better much better Windows Startup manager and it is available as a free download. It's called Autoruns, and it lists virtually every process that loads automatically upon Windows Startup. It also gives a brief description and extra details about many of them, including the exact path to their location on the hard drive. If you see a program or process listed that you don't want to load with every Windows boot, simply uncheck the box beside it. You'll find a screenshot below.
If you see processes you don't recognize (and you'll probably see plenty), you can type their names or filenames into Google and read up on them. Some of them will be legitimate and necessary, some will not. If not, you can easily disable or even delete them right from within Autoruns!
If you happen to disable the automatic startup of something that is actually needed, simply run Autoruns again and re-check the box beside that process, then exit Autoruns and restart your PC.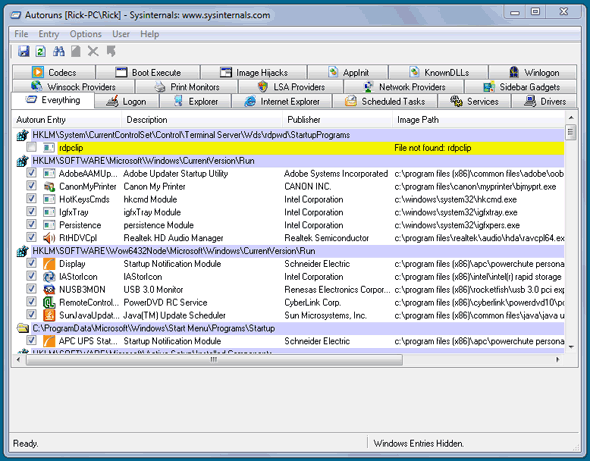 Autoruns is a stand-alone program that doesn't need to be installed, therefore it's portable (it can even be run from a thumb drive) and it doesn't add to the clutter in the Windows Registry.
Here are the steps for downloading and running Autoruns:
1 – Visit the Autoruns download page  and click the download link on the right-hand side of the page.
2 – Open the Autoruns.zip folder and click "Extract all files".
3 – To run Autoruns simply click on autoruns.exe.
If you like this post you can get my latest tips in my weekly RicksDailyTips Email Newsletter. Sign up for free at the bottom of this page!