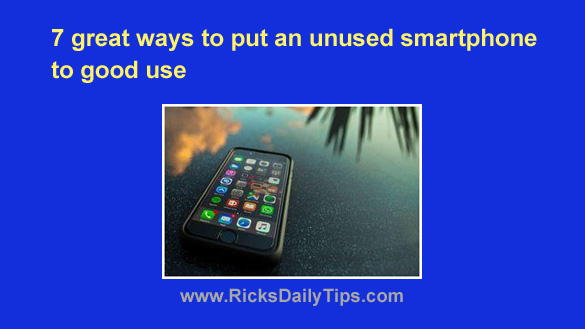 If you're like most folks these days, you probably buy a new phone at least every other year or so, and more often than not your old phone is still working just fine when you move on to the new one.
You could always sell your old phone or simply place it in a drawer and forget about it, but you also have the option of giving it a second life by installing an app that turns it into something that's actually quite useful.
Here are seven great uses for your old, but working smartphone (or tablet for that matter):
1 – You could turn it into an emergency radio scanner. A simple radio scanner app will let you use your old phone to listen in on 911 calls involving your local police, fire and rescue operations.
2 – You could use it as a wireless security camera to keep tabs on what's happening at your front door or in a certain room in your house. Example: Your old phone would make a fantastic baby monitor!
3 – You could use your old phone as a document scanner and use it to scan business cards, receipts, or pretty much any printed document.
4 – You could turn it into a remote for your digital camera. Simply install an app and you'll be able to remotely control most any modern DSLR by tapping on your phone's screen.
5 – You could turn it into a metal detector. Yep, believe it or not, installing a simple app will allow you to use your old phone to find…well, pretty much anything that's made of metal.
6 – You could use it as an electronic, zoom-able magnifying glass. I have an ancient Samsung Galaxy S that I've used as a magnifying glass for years, and it works extremely well.
7 – Do you enjoy reading eBooks from Amazon? If so, you can easily turn your unused smartphone or tablet into a fantastic Kindle e-reader replacement!
As you can see, your unused, but working smart phone (or tablet) can help you out in a number of ways. And that sure beats junking it and then spending money on something that you don't need to spend it on!
Give one of these apps a try and put yours to work for you today!
---
Never miss a tip!  Click here to sign up for my free Daily Tech Tips Email Newsletter!