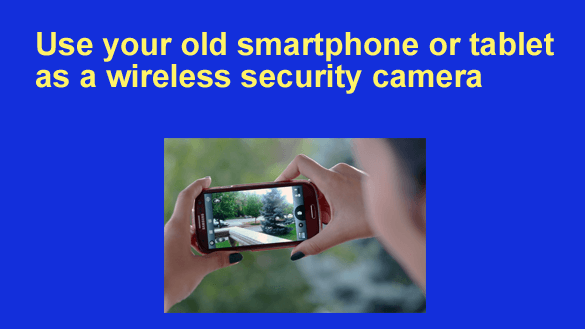 Like most households these days, yours probably has one or more old smartphones and/or tablets that were retired to a junk drawer after upgrading to a new device.
Well, here's a little tip for putting those outdated, but completely functional devices to good use…
A simple downloaded app can instantly convert them into wireless security cameras!
Just download and install a good security camera / IP camera app and then mount the device where it can "see" the area you wish to monitor. You'll then be able to view everything that happens there via the app and/or a web browser.
Truth be told, the cameras in even older, out-of-date phones and tablets are capable of capturing decent quality video. In fact, the quality of the video they capture will likely be just as good, and possibly even better than the video captured by many actual security cameras.
Just be aware that if the device will be powered up and capturing video continuously you'll need to make sure you can keep it plugged into a charger at all times. That may or may not be a problem, depending on the location of the nearest electrical outlet.
But that being said, if you have an outlet available for powering the device you'll be all set.
I won't recommend a specific app because new ones are coming out all the time. Just search your device's app store for the terms security camera and IP camera and check out the ratings and permissions of the apps that pop up.
Important: Once you choose an app and get it installed, make sure you protect the app and device with a strong password to prevent hackers from intercepting the video you capture.
Bottom line: A home-brew security camera is great for use as a baby monitor or for checking to see who is knocking at your door. Just be sure you have a decent Wi-Fi signal and an outlet available for plugging in a charger wherever you wish to install your "security camera".
---