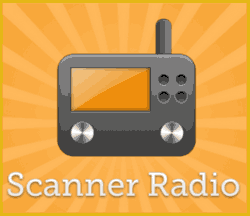 Regular readers of this blog know that you don't have to just junk your old smartphone or tablet when it comes time to upgrade because there are countless uses for working mobile devices.
In this post I'll explain how to give your old iPhone, iPad or Android device a second life as a dedicated emergency radio scanner.
You'll be able to use your "scanner" 24/7 while at home or anywhere that you have access to Wi-Fi (your old phone likely won't have an active data plan). 
There are a number of great emergency scanner apps for both iOS and Android devices, but the one that I like the best is called Scanner Radio.
Android users can download the app for free from the Google Play Store. If you have an iPhone or iPad you'll find it at iTunes.
Here's all you need to do in order to turn your unused smart phone or tablet into a full-time emergency radio scanner:
1 – Enable Wi-Fi in your phone's settings menu and connect to an available network.
2 – Depending on which phone you use, log in to either iTunes or the Google Play Store and download the Scanner Radio app.
3 – Follow the prompts to select the geographical area and emergency communications services that you wish to monitor.
5 – Tap the Play arrow to turn on streaming.
6 – Listen and stay informed.
That's all there is to it. Now your old device has a second life as an EMS radio scanner!
Bonus tip #1: Did you know that you can also used your old smart phone as a metal detector? This post explains how.
Bonus tip #2: Want to make sure you never miss one of my tips? Click here to join my Rick's Tech Tips Facebook Group!
---
Want to ask Rick a tech question? Click here and send it in!
If you found this post useful, would you mind helping me out by sharing it? Just click one of the handy social media sharing buttons below.