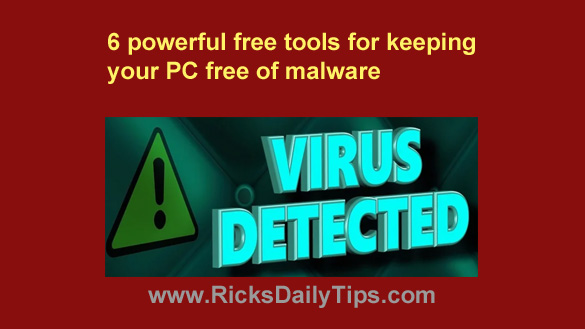 It's a well-known fact that the online world is riddled with malware these days.
That means if your PC is connected to the Internet it's constantly at risk of being exposed to viruses, trojans, spyware, ransomware and other forms of malicious software.
Luckily, you can reduce the risks posed my malware by learning how to avoid phishing emails and social engineering ploys. But sadly, that just isn't enough to keep your computer free of malware. 
It's very important to also use an effective combination of security tools to prevent your PC from becoming infected and remove the malware that does happen to slip through (and trust me, some will).
Back in the early days of computing we had to actually purchase our security software because there just weren't any high-quality free anti-virus programs available. But times have changed.
Nowadays there are tons of free anti-malware programs available for immediate download from the Internet. Some are better than others, and a few of them are outstanding.
I have used dozens of these free security tools over the years and I have developed a list of the ones that I like best.
The fact is no security software is 100% effective at blocking, detecting and removing all forms of malware.
That's why an effective anti-malware strategy requires the use of multiple tools on a regular basis in order to keep your PC malware-free and running smoothly.
The following is a list of my top seven favorite anti-malware tools:
1 – Avast Antivirus – In my opinion, Avast Antivirus is the best full-time antivirus program on the market. I have found the free version of Avast to be easy to use and highly effective, therefore I use it on my own computers and recommend it to others every chance I get.
2 – Malwarebytes – In addition to your full-time antivirus software, you also need to occasionally run an on-demand malware scanner.
Malwarebytes does a fantastic job at tracking down and removing malware that other security tools miss. And yes, they ALL miss some threats at times. As with Avast, Malwarebytes comes in both free and paid versions. I use and recommend the free version.
3 – Spybot Search and Destroy – Like Malwarebytes, Spybot works hand-in-hand with your full-time antivirus scanner to find and remove the malware that finds its way onto your system. As with all the other tools mentioned in this post, I use and recommend the free version of Spybot.
4 – ADWcleaner – Another outstanding on-demand malware removal tool is ADWcleaner, a powerful, yet easy to use program that wipes out adware, browser hijackers and those oh, so irritating junkware toolbars. ADWcleaner is a free download, and I recommend that you install it onto your PC right now.
5 – TDSSKiller – There is a special class of malware called Rootkits that load themselves into your computer's memory before Windows even boots up. Rootkits can be very difficult to detect and remove with regular antivirus programs, but Kapersky's free TDSSKiller will track them down and wipe them out.
6 – JPCS (Just Plain Common Sense) – This one is about as free as it gets. It already resides in our brains, and using it every time we log onto our computer will go a long way towards keeping our systems clean and free of malware.
Here are a few common sense tips for avoiding malware infections:
a) Don't click links in emails unless you are absolutely certain that both the links and the emails themselves are legit and they were truly sent by the person listed in the "From" field. If there is any doubt in your mind, don't click!
b) Be careful to avoid installing unwanted third-party add-ons along with free software downloads. This post explains how to safely install free software without installing any bundled junkware along with it.
c) Never run more than one full-time antivirus program at the same time. If you do, they will fight each other and neither of them will protect your system from viruses. Remember, when it comes to antivirus programs, two are NOT better than one – they are actually useless.
There you have it. Regular use of the awesome free tools listed above will help you keep malware from slowing down or completely trashing your system and prevent hackers from stealing your money and/or your identity. Good luck!
---
Never miss a tip!  Click here to sign up for my free Daily Tech Tips Email Newsletter!