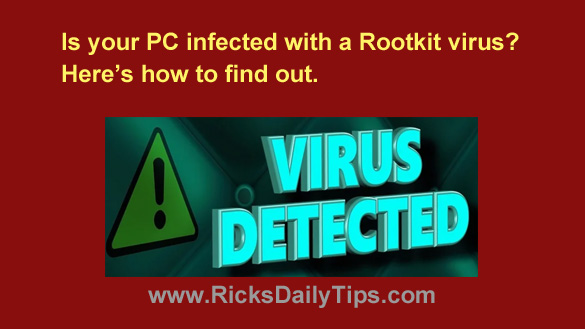 As you probably know, modern day malware comes in many forms.
Some varieties, such as adware, are often merely annoying.
But more malicious forms of malware can actually wreck your Windows installation and help hackers steal your identity and/or your valuable financial information.
A high-quality anti-virus program such as Avast can help keep your computer free of malware, but a special class of malware known as rootkits often goes undetected by regular virus scans.
Rootkits load into your computer's memory before Windows even boots up, and that makes them especially difficult to find.
Anti-virus software maker Kapersky has created a free utility that's designed specifically to hunt down and remove dangerous rootkit viruses. It's called TDSSKiller, and it's easy to use and quite effective at finding and removing this insidious form of malware.
Follow these instructions to download TDSSKiller and use it to check your system for rootkits:
1 – Visit this page on the Kapersky website, then click How to use the tool in normal or safe mode.
2 – Click the TDSSKiller.exe link on the line that begins with the number 1. The tdsskiller.exe executable file will be downloaded to your PC.
3 – Double-click the tdsskiller.exe file to launch the scanner.
Note: If you have trouble locating the downloaded file, press the Ctrl+J key combination to display the "Downloads" folder. You should find the tdsskiller.exe executable file in that folder.
4 – When prompted to do so, click Run.
5 – Click Accept to accept the End User License Agreement (EULA). If prompted to click Accept again, do so.
6 – Click the Start scan button. TDSSKiller will scan your system for rootkits, and if it finds any it will remove them.
That's all there is to it. Keep in mind that TDSSKiller doesn't replace your regular anti-virus program, it merely supplements it. I recommend keeping a shortcut to TDSSKiller on your computer's desktop and running it on a regular basis (once a week for example).
Bonus tip: This post explains why you should occasionally seek a second opinion when your antivirus scan says your computer is malware-free.
---
Never miss a tip!  Click here to sign up for my free Daily Tech Tips Email Newsletter!