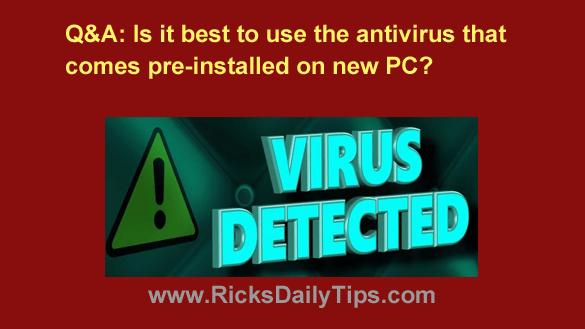 Question from Marilyn:  Rick, I've bought several new computers over the years and they all came with an antivirus program pre-installed.
I've always just kept using what was already on there because I figured it was probably the best antivirus program for that particular machine, but I now have doubts about that after reading some of your stuff on your blog.
Hence, this question: Is it best to stick with the security software that comes pre-installed on a computer or replace it with something else?
I guess I'm just wondering if the pre-installed software is made to work better with that particular computer?
Rick's answer:  Hi, Marilyn. Your choice of whether to keep using (and eventually pay for) the anti-virus software that came pre-installed on a PC is entirely personal preference.
There is no inherent advantage to using one particular brand of security software on any particular brand/model of  computer.
The computer manufacturers are typically paid by the software companies to pre-install trial versions of their software onto the new PCs they build.
These deals between the software and hardware vendors are sold to those shopping for a PC as a benefit to the customer like "Hey, buy this computer and you won't have to shop for security software!"
But truth be told, it's actually just a simple marketing deal.
You are completely free to ditch the security software that comes pre-installed on your next new PC with no worries whatsoever.
In fact, one of the first things I do when setting up a new PC is remove the pre-installed security software and replace it with the Premium version of Malwarebytes.
I don't do that because Malwarebytes is optimized to work best with specific machines. I do it because Malwarebytes is simply my preferred antivirus product.
And now, a couple of things for you to consider:
1 – If you decide to stick with the antivirus that comes pre-installed on a new PC (and there's absolutely nothing wrong with doing so), you'll have to pay in order to keep using it after the trial period ends.
2 – This is entirely my own personal opinion based upon my own personal experience, but the Premium version of Malwarebytes just seems to do a better job at protecting my PCs from viruses and other forms of malware than the paid versions of some of their competitors.
That being said, you're free to choose any security software that suits your fancy. There are plenty of great options to choose from.
Bottom line: There's no real advantage to using the antivirus software that came pre-installed on your new computer. You're completely free to choose any antivirus software you wish to use on it.
I hope this helps, Marilyn. Good luck!
---