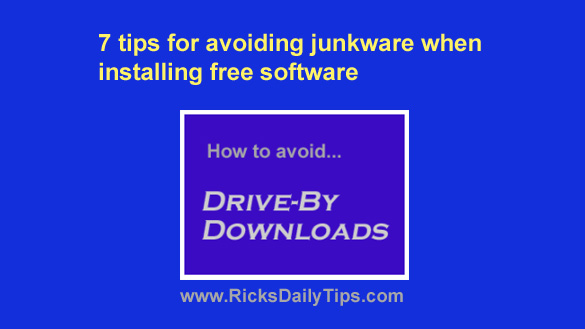 Regular readers of this blog know that I'm a huge fan of free software.
In fact, I download, test and write about free programs and apps all the time.
That being said, installing free software can sometimes causes problems.
For instance, poorly written code can cause "memory leaks", system instability and a host of other problems.
That's why it's important to check out any user reviews that are available before installing a new piece of free software. 
But as problematic as the above mentioned issues can be, they can almost always be reversed by simply uninstalling the "bad" programs from your system.
The issue with free some software that irritates me even more is how they sneak adware, toolbars and other unwanted software (what I like to call "Junkware") onto your hard drive during the installation process. This process of stealthily installing unwanted "extra" software as an add-on is commonly referred to as "drive-by downloading", and I detest it!
Most drive-by downloads can be avoided if you know what to look for and what to do when you find it. Here are a few tips for avoiding the "extras" when installing a free download:
1 – Download and install Unchecky, a free utility that will help you avoid installing "Drive-By Downloads" by automatically "unchecking" the check boxes found in the Setup utilities for many free software programs.
2 – NEVER install a download that makes its way onto your RADAR via an email, even if it's for a program that you're familiar with. Just don't do it.
Why? Because you'll probably end up installing viruses, trojans, adware, toolbars and other such malware instead of (or in addition to) the awesome software that you were promised.
3 – Beware of fake "Download" buttons that are really just ads. You can usually identify these for what they are by hovering your mouse over the buttons and looking at the URL that the click will take you to.
4 – NEVER opt for the "Express Installation", "Typical Installation" or "Normal Installation".
ALWAYS choose "Custom Installation" whenever possible and uncheck any boxes that give the installer permission to add-on extra software as part of the installation process.
5 – Be sure to check EVERY screen of the install wizard for check boxes. Don't just click "Next" or "Accept" without checking out the screen in excruciating detail.
6 – Even if you don't read it, at least scroll through the text of the EULA, looking for check boxes as you go.
The really sneaky junkware distributors will hide the opt-in/opt-out check boxes in the text of the EULA!
7 – Download your free software from a reputable download site that doesn't bundle add-on software with their downloads in the  first place. Whenever possible, I always get my free software at OlderGeeks.
Although it's usually possible to avoid drive-by downloads by diligently paying attention while installing free software, sometimes a piece of junkware will make its way onto your system anyway.
If so, first try uninstalling it by using the "Force Removal" tool in Geek Uninstaller (one of my absolute favorite free programs).
If Geek Uninstaller can't get rid of the crud, try running ADWcleaner and the free version of Malwarebytes.
If those doesn't get rid of it either, contact me and I'll tell you what to try next.
Bonus tip: This post discusses several awesome free downloads that I use on a regular basis.
---
Never miss a tip!  Click here to sign up for my free Daily Tech Tips Email Newsletter!