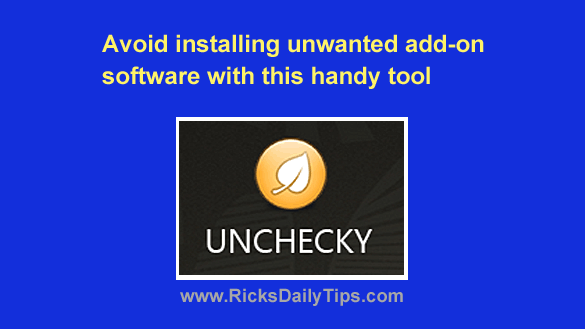 As regular readers of this blog already know, I'm a huge fan of free software.
And thanks to the Internet there are thousands of great free programs available for instant download right onto our computers.
But truth be told, much of that "free" software isn't actually free.
While it's true that we can download tons of free programs without having to lay out any cash, we often end up paying in other ways. 
In order to make money, the companies that distribute free software typically either include ads that we view as we use their programs or they get paid by other software companies to distribute their software as optional add-on programs bundled with the free downloads.
These add-on programs are often derisively referred to as "junkware" or "drive-by downloads".
Reputable companies make add-on software truly optional by creating an installer that requires us to opt-in (i.e. consciously agree to install the add-ons) before any junkware is actually installed.
Unfortunately, the companies that do business on the up-and-up like this are growing fewer by the day.
It seems that the norm these days is for those all-important "opt-in check boxes" to be already checked by default.
What's more, all too often they are either hidden among a mountain of boring text or placed on a separate page entirely. This makes it way too easy to miss the opt-in check boxes and install the potentially unwanted extra software by default.
But guess what? I have good news…
An awesome free download (did I mention that I'm a huge fan of free software?) called Unchecky will track down those hard-to-find opt-in check boxes and uncheck them on your behalf!
And while very few tools like this are fool-proof, I have personally never witnessed an instance where Unchecky missed a check box.
And that's a pretty good endorsement since I download, install and test a LOT of free software.
Here's a short video that shows Unchecky in action:
Once installed, Unchecky will sit quietly in the background, ready to spring into action every time you run the installer utility for a free software download.
What's more, this awesome tool even updates itself, ensuring that you always have the latest version of Unchecky installed.
Using Unchecky couldn't be easier. Simply scroll to the bottom of this page and click the big green Download Now button to install it, then forget about it!
Bottom line: I have used Unchecky for years, and it works like a charm. And it's very lightweight so you won't have to worry about it slowing your system down.
Bonus tip: Download your free software from OlderGeeks.com and you won't need Unchecky! Why? Because all of their downloads are Crap-Ware and Add-On free in the first place!
---