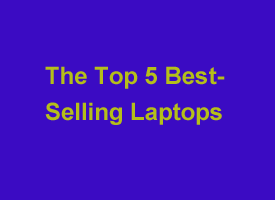 Every few days I receive an email asking me which brand/model of laptop is the best selling laptop currently on the market.
I certainly don't mind looking it up for folks whenever I'm asked, but I thought it might be a good idea to simply post the 5 best-selling laptops on Amazon from the previous week every Monday.
If you're wondering why so many people inquire about the "best sellers", it's because it makes them feel better about their own purchase if they choose a popular model with plenty of great reviews.
With that in mind, here are some of the best-selling laptops on Amazon:
1 – Dell Inspiron i3531-1200BK 15.6-Inch Laptop
This awesome gem from Dell has been Amazon's best selling laptop for several weeks now, and for good reason.
It would be pretty hard to find a more affordable laptop that's still capable of handling most common Internet and general computing tasks.
I reviewed this laptop back in June before I even realized how successful it would become, and it has since took off like a rocket.
2 – Acer C720 Chromebook
Chromebooks are extremely popular among users who do most of their computing online, and the C720 from Acer is the best-selling Chromebook on Amazon.
In fact, it was the best selling laptop on Amazon period for quite some time before the Dell mentioned above knocked it down to second place.
I wrote about the Acer C720 in November 2013, and it's still a super-hot seller today.
3 – Acer Aspire ES1-511-C59V
I haven't personally checked out or reviewed this Windows laptop, but after reading many of the mostly positive user reviews on Amazon, it appears to be a great option for those who need an affordable, yet capable budget laptop.
The specs seem to line up quite well with other laptops in its price range, and it's selling like gang-busters. That's a pretty good indication that it's a good laptop for the money given the high marks it has received in the user reviews.
4 – ASUS Transformer Book T100TA-C1-GR(S)
Convertible laptops are quickly gaining popularity these days because they can be used either as a standard laptop or detached from the keyboard and used as a tablet.
Personally, I believe convertibles are the future of mobile computing since they give you virtually all of the benefits of a full-blown laptop plus the convenience of a tablet. My next Windows laptop will most likely be one of these awesome machines!
I reviewed this great machine from ASUS back in June, and it has been the number one selling convertible laptop on Amazon for some time.
5 – ASUS 15.6-Inch HD Dual-Core 2.16GHz Laptop
This is another laptop that I haven't personally checked out or reviewed, but like the Acer listed in the third position above, it appears to be a good deal for the money.
If you're wondering just who ASUS is, they have been building motherboards and other components used by several major computer manufactures when building their computers for many years.
Most folks have never heard of ASUS before, but chances are the computers they used in the past were made using ASUS parts!