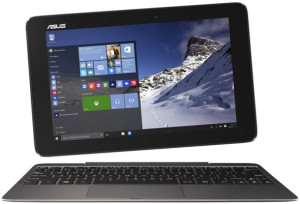 Tablet PCs are flying off the shelves these days, and for good reason. Even a budget tablet offers much of the functionality of a full-blown PC along with the awesome convenience of a mobile device.
That being said, many of the best-selling tablets run the Android operating system, and that's fine if all you need to do with your tablet is use the Internet and play games.
But if you want to perform real computing tasks, you're going to need something more.
I recently had an opportunity to check out the ASUS Transformer Book T100HA-C4-GR, a nifty tablet from ASUS that doubles as a laptop. It includes all of the following: 
10.1 inch 1200 x 800 touchscreen
Detachable keyboard
Intel Quad-Core Cherry Trail x5-Z8500 1.44GHz CPU
64GB solid state drive
4GB of RAM
802.11 a/b/g/n Wi-Fi
Bluetooth 4.0
12 hour battery life
5 MegaPixel webcam
1 MicroHDMI port
1 MicroSDXC memory card slot
1 USB 3.0 Type C port
Windows 10
As you can see, this is a very capable machine, suitable for fun and games plus plenty of productive activities as well.
This tablet/laptop combo is made by ASUS, one of the most trusted brands in the computer world. It appears to be well built, and it's light and compact.
If you're looking for a tablet PC that doubles as a very capable laptop, this could well be the best deal going at around $300 with free shipping.
Click here to read more about the ASUS Transformer Book T100HA-C4-GR 10.1″ Detachable 2-in-1 Touchscreen Laptop at Amazon.
Note: The links in this post are affiliate links. Prices change frequently on Amazon so any prices and/or savings mentioned in this post might not be accurate by the time you read this.