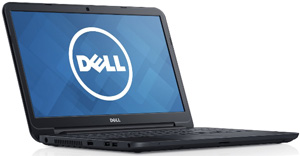 Modern laptops are becoming more powerful all the time. More RAM and hard drive space along with faster CPUs make many of them true desktop replacement PCs, and there seems to be no end to the enhancements in sight.
But not everyone needs the fastest, most powerful laptop on the block. If you just need a laptop that does a good job at surfing the Internet, checking email, watching Youtube videos and making simple edits to photos, a good budget model should serve you quite well.
The Dell Inspiron i3531-1200BK (#ad) is a 15.6 inch laptop that will do everything mentioned above, and more. While it won't be setting any speed records, it's plenty fast enough and powerful enough to do what the average Internet user needs for a budget laptop to do. 
It comes with an Intel Celeron N2830 CPU, 4GB of RAM (expandable to 8GB), a 500 GB hard drive, 802.11bgn Wi-Fi support and a built-in webcam. Another nice feature is a numeric keypad which is something of a rarity among budget laptops. Add in the average 6.5 hour battery life and you can see that this is a pretty capable machine for the money!
Of course at this price there are bound to be a few tradeoffs to consider, and that's certainly the case here. For example, there is no optical drive for installing software from disc, watching DVDs or listening to CDs. But few people do those things with laptops anymore anyway, and if you need to you can always plug in an inexpensive external USB optical drive.
The video quality provided by this laptop isn't the sharpest around, but most users will find it quite adequate for watching Internet videos and such.
Overall, this is a good entry-level budget laptop. The price just can't be beat, and unless you need a laptop for gaming or running resource-intensive software such as Adobe Photoshop, I think you'll find it to be a very viable option for your basic Internet and general purpose computing needs.
Click here (#ad) to read more about the Dell Inspiron i3531-1200BK 15.6-Inch Laptop on Amazon.