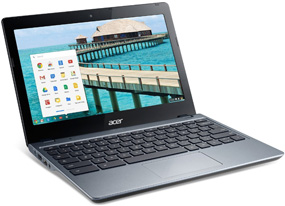 In an effort to bring Chromebooks (laptops running the Google Chrome operating system) to the masses, Acer has decided to sell the Chromebook C720 for a great price, and the shipping is free!
This is a great deal on a very capable laptop for those who use their PCs primarily for Internet use, checking emails, Facebooking, etc.
As one might expect, the Chromebook C720 isn't the fastest or most capacious laptop on the market (after all, it does cost about $200), but it does what it was intended to do very well – the uses mentioned above.
Here's what you'll get: 
11.6 inch Color Screen / 720 Pixels Max Resolution
1.4 GHz Intel Celeron CPU
2GB RAM GB DDR3L SDRAM
16 GB Solid State Drive (SSD)
Graphics Coprocessor Intel HD Graphics Coprocessor
128 MB graphics RAM
HDMI Port
802.11abgn Wireless Networking
1 USB 2.0 Port
1 USB 3.0 Port
Average Battery Life of 8.5 hours
Google Chrome Operating System
1 Year Warranty on Parts and Labor
If you're looking for a small, easy to use and inexpensive laptop for Internet use, this is a deal that's pretty hard to beat, especially since it automatically stays up-to-date and virus free without any effort on your part!