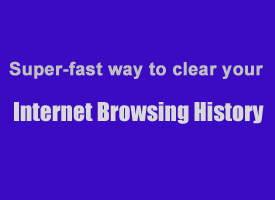 There are many benefits derived from deleting your Internet browsing history on a regular basis, but navigating to the screen where you can delete the browser cache, stored cookies, and history of visited web pages can be time consuming and confusing, especially if you regularly use more than one browser.
Luckily, there is a super-fast way to get to that page by pressing a single key combination. Just press Ctrl+Shift+Del and the settings page where you select the Internet history items to be deleted will be displayed in a flash.
This tip works in all three of the most popular web browsers (Internet Explorer, Firefox and Google Chrome). Give it a try!