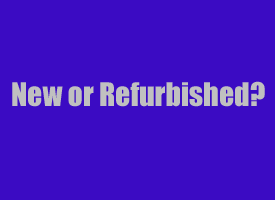 I'm often asked if buying a refurbished computer instead of a new one is a wise move, and I believe it is for several reasons:
1 – It saves you money. Opting for a refurb instead of a new PC can save you anywhere from 20% to 80% off of what it would cost you to buy a new computer.
2 – The quality and reliability of refurbished PCs are guaranteed by the manufacturer. Most computers aren't returned because they are defective. They are actually returned due to either buyer remorse or the inability of the user to learn how to use it correctly.
3 – The systems that are indeed returned due to a real problem are repaired, cleaned and thoroughly tested before being put up for re-sale. In fact, statistics show that your chance of receiving a defective refurbished unit is actually less than receiving a defective new one because of the extra stress tests the refurbs are subjected to. [Continue Reading]