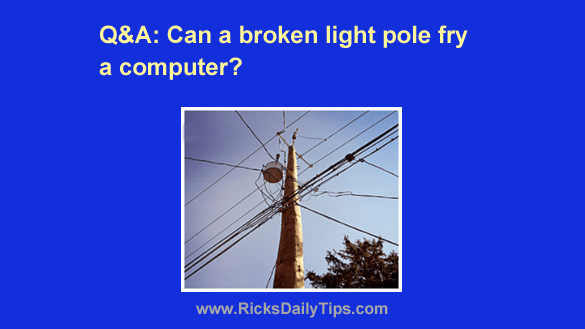 Note: The links in this post are affiliate links.
Question from Elaine G.:  I came home from work yesterday evening and the power company was replacing a light pole in the neighbor's yard that had been broken off by a wrecked car.
It took several hours for them to get the power back on, and when they did my ASUS desktop PC wouldn't come on.
When I press the power button nothing happens. No noise of any kind, and no lights – nothing.
I know the outlet is working because the other items that are plugged into the same power strip are working fine.
Do you think the broken light pole fried my computer somehow? And if it did, can it be fixed?
Rick's answer:  Elaine, the first part of your question is easy to answer. Not only is it possible that the broken pole could have damaged your computer, I'd say there is very little doubt that that's exactly what happened.
Any time something unexpectedly disrupts a neighborhood's power grid, there's a chance that one or more strong power surges will come down the line and enter the homes that are connected to it.
That happens quite often, and when it does it can easily damage sensitive electronic items in the affected homes.
That's why I so strongly recommend that all computers and other expensive devices be plugged into a quality surge protector or battery backup device/UPS
at all times.
As far as your computer is concerned, there's a good chance that the power surge(s) took out just the power supply unit (PSU). If that turns out to be the case, a new PSU will have your computer back up and running in no time.
That being said, the motherboard could be fried as well, in which case you'll almost certainly need to buy a new computer.
The problem is there's no way to determine the extent of the damage until you take it into a shop and ask them to diagnose the problem.
Just be prepared to pay a reasonable check-out fee even if you decide not to have it repaired.
Bottom line: I recommend taking your computer to a repair shop that you trust and ask them to give you an estimate.
If the repair will cost more than 50% of the computer's current value I recommend that you simply apply that amount towards the purchase of a new computer.
Why do I recommend purchasing a new computer even if your insurance pays for the repair?
The answer is because you never know which parts that weren't replaced as part of the repair were also partially damaged and ready to fail at any time.
Of course you'll only be able to go the new computer route if your insurance company agrees to write you a check instead of paying the service center for the repair directly.
Either way, get yourself a good surge protector or battery backup device
to help protect your PC from the next power surge that will surely be coming its way in the future.
I hope this helps, Elaine. Good luck!
Update from Elaine:  After I sent you this email I found out that the TV in my den is fried too. Just my luck. I thank you for your help Rick.
Bonus tip: This incident is a real-time example of why you need to always have a recent backup of your computer's hard drive on hand.
Luckily, it's very easy to back up your irreplaceable files onto an external USB hard drive.
---
Never miss a tip!  Click here to sign up for my free Daily Tech Tips Email Newsletter!