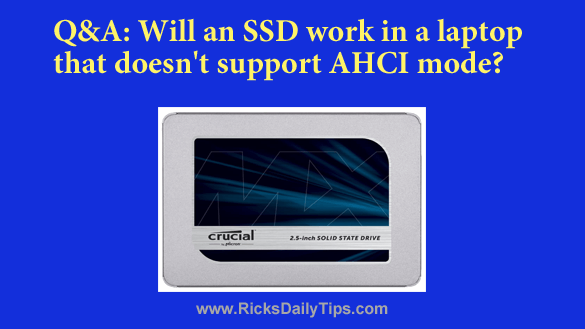 Click here to sign up for my free Rick's Tech Tips Newsletter!
---
Question from Pete:  I read your post about speeding up a PC by replacing the hard drive with an SSD. Thanks for such an awesome tip!
I ordered a Crucial 1TB SSD to go in my old HP DV7t-7000 laptop and it arrived today.
When I went to install it the instructions said to set the SATA port to AHCI mode in the BIOS settings. The problem is I couldn't find a way to make that change in the BIOS.
I emailed HP tech support and asked them how to change to AHCI mode in the BIOS and they said I can't because that setting is locked out in that machine.
My question is will an SSD not work with this laptop? I don't want to install the new drive if it's not going to work or if it will damage something.
Thanks in advance for your help. I love your blog by the way!!!
Rick's answer: Thanks for your kind words about my blog, Pete. I appreciate it very much!
Unfortunately, there is in fact no way to select AHCI mode in the DV7t-7000 BIOS as you have already discovered.
The good news is you can still use your new SSD in your laptop just fine, and the increase in speed you'll enjoy will still be dramatic.
Switching to (or adding) a solid state drive is one of the best upgrades you can make to any home computer, and that includes PCs that don't support AHCI. It's a real shame that the HP tech didn't bother to tell you that.
Bottom line: You can install an SSD in your HP DV7t-7000 laptop with no worries whatsoever, and I think you'll be quite pleased with the upgrade.
Bonus tip: This post explains why adding RAM to your computer is another easy and relatively inexpensive way to make it run faster and experience fewer glitches and random reboots.
---
Click here to ask me a tech question.