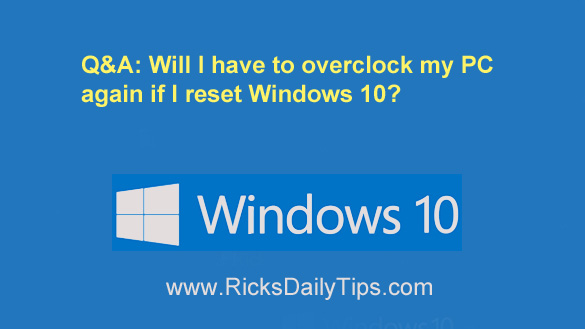 Question from Brandon:  A guy I play games with online told me how to overclock my computer to make it run the games faster.
I followed his instructions and did it and everything was great for about 2 days.
Then I must have downloaded a virus or something because my computer has started acting strange. It's locking up on me and shutting down on its own.
I ran my virus checker but it didn't find anything so I want to follow your instructions to reset Windows 10 to see it that will fix it.
If I reset Windows will it wipe out the overclocking? I'd hate to have to go through all those BIOS settings again.
I'd ask the guy I got the instructions from but he isn't answering the messages I'm sending him.
Rick's answer:  Brandon, first allow me to answer your question…
No, resetting your Windows installation won't affect the overclocking you've done in any way since those are hardware/firmware changes that are independent from the operating system.
But now, read on for more context…
I have some good news for you, but I also have some bad news.
The good news is your computer probably doesn't have a virus at all. I recommend that you follow the steps listed in this post to find out for sure if your system is clean, but I'm guessing it is.
And now the bad news…
I believe your system instability issues are the result of your over-clocking your PC. When you over-clock a computer (or rather its various components), the chips tend to over-heat and/or become unstable, causing exactly the kinds of problems that you are experiencing.
It's possible to safely over-clock many PCs (at least to a certain extent), but doing so often requires the installation of special cooling systems (plus taking a few other safety measures as well).
I recommend that you reverse the overclocking steps you took earlier right away to set your machine back to its factory condition. I believe that will resolve all your problems in one fell swoop without resetting your Windows installation.
Then, if you want to give the over-clocking another try, you can. Just be sure to read everything you can find online about the physics of over-clocking and the steps you need to take in order to do it safely.
By the way, if you want to safely speed up your computer I recommend increasing the amount of RAM (if possible) and installing a super-fast solid state drive (SSD). In most cases those upgrades will do more to speed up a sluggish PC than over-clocking will.
I hope this helps, Brandon. Good luck!
Update from Brandon: Thanks for the info. I undid the over-clocking and that seems to have fixed it.
---