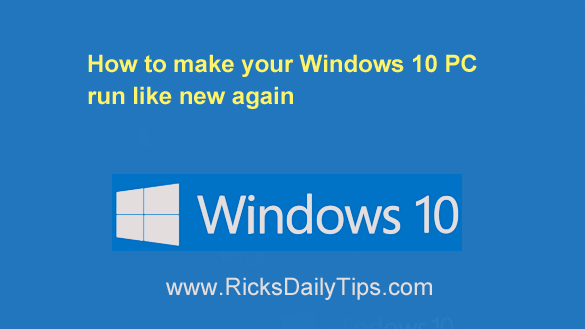 I frequently receive questions about speeding up computers that have become sluggish over time or fixing problems that prevent Windows from working as it should.
There are a number of different responses that I usually have for those questions, and the one I give depends on the actual issues they are experiencing with their machines.
For example, if you accidentally click on a malicious link and your system gets encrypted by ransomware, if you have a recent System Image Backup on hand you can simply restore your hard drive from that backup and be done with it.
If you don't have a good backup on hand you'll need to create a Windows 10 installation medium and use it to install Windows 10 from scratch.
However, if your PC is having problems but it will still boot up into Windows, you have another option…
You can simply reset your Windows installation, which basically reinstalls all of the critical Windows files in one easy operation.
In times past resetting a Windows installation meant wiping the hard drive and reinstalling everything from scratch, but Windows 10 makes things a lot easier.
In most cases you can simply reset your Windows 10 installation without affecting any of your photos or user-created files, resulting in a brand new Windows installation with all of your files still in place.
Important: Be aware that if you reset Windows 10 will have to reinstall any programs and apps that are currently installed on the PC. You'll also need to reinstall your printer driver as well.
But that's a lot easier than having to restore all of your personal files too.
If you'd like to reset your Windows 10 installation and make your PC run like new again, simply follow the steps below:
1 – Follow the steps in this post to create a fresh System Image Backup just in case something goes wrong while you're resetting Windows 10. These resets usually go off without a hitch, but there are no guarantees when you're dealing with the Windows operating system.
2 – Click the Start button.
3 – Click the Settings icon (it looks like a "gear" or "cog").
4 – Click Update & Security.
5 – Click Recovery over in the left-hand column.
6 – Click the Get started button under "Reset this PC".
7 – Select the Keep my files option and follow the prompts on the screens that follow in order to initiate and complete the refresh procedure.
8 – After everything is complete you'll need to reinstall your programs and apps as well as your printer driver.
Bottom line: The procedure detailed above will allow you to fix most any issue you're having with your PC by resetting your Windows 10 installation while leaving your photos and other user-created files in place.
Bonus tip : This post explains how to force Windows 10 to automatically create a new System Restore Point every day.
---