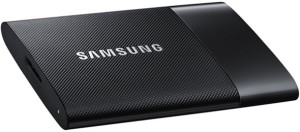 By now you probably know how important it is to create regular backups of the data that's stored on your computer's hard drive.
You also probably know that it can take a good long while to create each of those backups.
Luckily, there's a simple and easy way to greatly speed up the backup process (and the restore process as well, should it ever be needed)… 
Simply back up your data onto an external USB solid state drive (SSD) (#ad) instead of an external hard drive.
When plugged into a USB 3.0 port, external SSDs are several times faster than even the fastest external hard drives. That means you'll complete your backups and restores a lot faster as well.
Of course your computer will need to have an available USB 3.0 port in order to take advantage of the blazing speed of an external SSD. If yours doesn't have one, you can easily add some for about the cost of a pizza.
If you aren't in the habit of backing up your hard drive on a regular basis, I recommend that you start doing so away. Hard drives can and do fail, and having a current backup on hand makes recovering from a drive failure so much faster and easier.
Recent versions of Windows make it easy to back up your hard drive by creating a System Image Backup. The posts at the following links explain how to do it, step-by-step. Just click the link that corresponds to your version of Windows:
There you have it! Now you know how to make a backup of your hard drive, and you know how to do it in the fastest manner possible.
---
If you think your friends would like this post, I'd love you to share it! Thanks a bunch!