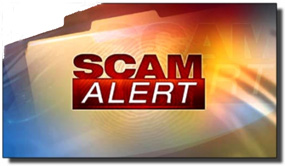 As you probably know, there are almost as many scams and hoaxes on Facebook as there are grains of sand on a beach.
Old scams and hoaxes never really go away, and new ones keep popping up all the time.
There's a new hoax that's making the rounds right now, and it's causing quite a stir among my Facebook friends and blog readers. It works something like this… 
You see a Facebook post or receive an instant message that claims to tell you how to find out how many "strangers" are following you so you can block them.
Their instructions are to visit your "Manage Blocking" page and type the words "Following me" into the "Block Users" search box and then clicking the "Block" button. When you do, a list of names will pop up, leading you to believe that those users are following you.
The results of that search sets off a panic for some folks because many of the users returned by the search seem to have "foreign" or even nonsensical names.
The fact is this entire exercise is a hoax. You can type most anything into the "Block Users" search box and several users will often pop up. But the fact is those users are NOT following you!
Want proof that it's a hoax? Here are a couple of exercises for you to try:
1 – Visit your "Manage Blocking" page by clicking the Blocking link in the left-hand column of the "Settings" screen, then type abc xyz into the "Block Users" search box and click Block. Those names that just popped up are NOT following you.
2 – Type (or copy and paste) the name Zachariah into the search box in the blue bar at the top of the Facebook page. Several names should pop up. Choose any user in that list who is NOT one of your friends and paste that user's full name into the "Block Users" search box on the "Manage Blocking" page. In other words, repeat exercise 1 above but paste the user's name you have selected into the box.
As you can see, that user (and probably several others) will pop up even though that's a random user that is not following you.
You can repeat exercise 2 by searching for ANY name you want and selecting a name of a non-friend at random from the resulting list and that user will pop up up when you search for it on the "Manage Blocking" page.
These two exercises prove that the Facebook posts and IMs telling you how to check your followers are hoaxes. If you follow their instructions and block all those folks you'll be adding people to your block list that have no connection to you whatsoever. In other words, you'll be wasting your time.
Now, all of the above being said, there's a chance that there really are users following you who are not friends with you on Facebook.
If you have the "Who can follow me?" setting set to Public that will allow anyone on Facebook to follow you even if they are not friends with you. (ALL of your friends follow you by default unless they choose to unfollow you.)
You can easily check the status of this setting (and optionally change it) by following the steps listed in this post.
The instructions in the hoax messages notwithstanding, there actually is an easy way to view a list of the users who really are following you. Just follow these steps:
1 – Visit your Timeline page.
2 – Click Friends.
3 – Click the More button that's located just to the left of the "Search for your friends" search box. (Don't click the More button that's located on the menu right under your Cover photo.)
4 – Select Followers from the drop-down menu to display the list of your Facebook followers. Note: If your profile's "Who can follow me?" setting is set to "Friends" instead of "Public" this list should be blank.
Bottom line: The Facebook posts and instant messages telling you how to "check for strangers following you and block them" is a hoax, plain and simple.
Bonus tip #1: Read this post to learn how to "unfriend" someone on Facebook without really unfriending them.
Bonus tip #2: Want to make sure you never miss one of my tips? Click here to join my Rick's Tech Tips Facebook Group!
If Facebook isn't your cup of tea, I invite you to sign up for my Rick's Daily Tips Daily Update Newsletter.
---
Want to ask Rick a tech question? Click here and send it in!
If you found this post useful, would you mind helping me out by sharing it? Just click one of the handy social media sharing buttons below.