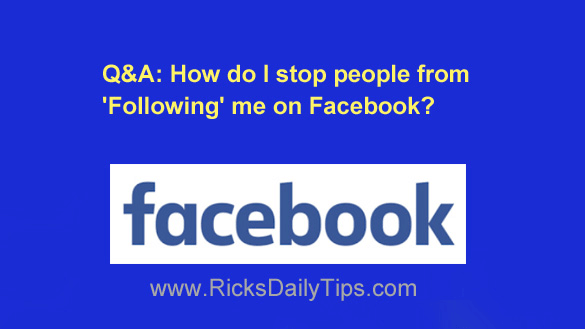 Question from Horace:  I recently noticed that several people I don't even know are "following" me on Facebook.
I'm guessing they don't know me either and I don't want them seeing the things I post on my page.
How can I get rid of my current followers and prevent more people from following me in the future?
Rick's answer:  Horace, you can easily remove your current "Followers" and prevent new ones from being added with a quick Settings change. Just follow the steps below that match the device you're using for your Facebook activities.
If you use Facebook in a web browser on a laptop or desktop PC:
1 – Click the down arrow located at the far right side of the Menu bar at the top of your Facebook window.
2 – Click Settings & Privacy.
3 – Click Settings.
4 – Over in the left-hand column, click Public Posts.
5 – In the "Who Can Follow Me" field, select Friends.
If you use the Facebook app on a mobile device:
1 – Tap the Menu icon in the top-right corner of the screen (it looks like three horizontal lines).
2 – Scroll down and tap Settings & Privacy.
3 – Tap Settings.
4 – Scroll down to the "Audience and Visibility" section and tap Followers and Public Content.
5 – In the "Who Can Follow Me" section, select Friends.
That's all there is to it. All of your Facebook followers should now be removed, and no one will be allowed to follow you in the future unless and until you change this setting back to "Public".
If you ever do change your mind and return that setting to "Public", all of the followers you had before you removed them via the above procedure will be restored.
Note: People on your "Friends List" follow you by default. If you wish to keep someone as a friend but prevent them from seeing your posts, you can easily do that by following the instructions in this post.
I hope this helps, Horace. Good luck!
---