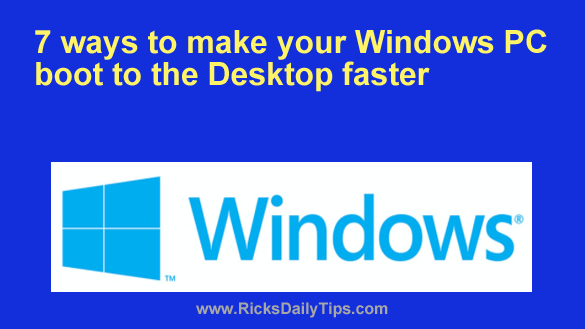 One of the most irritating things about using a Windows PC is having to wait for it to boot up into a usable state after we turn it on.
To their credit, Microsoft has tweaked newer versions of Windows to reduce average boot times, but in my opinion it still takes longer for them to start up than it should.
Luckily, there are several things you can do to make your own PC boot up a lot faster than it does right now, even if your computer is brand new. Do as many or as few of them as you wish, then enjoy the fruits of your labor. 
1 – Make sure your PC is completely free of viruses and other forms of malware by following the steps listed in this post.
Viruses, spyware and adware can make even the fastest computer boot to a working Desktop as slow as a sleeping snail!
2 – Prevent programs that don't need to start up automatically every time your PC boots up from doing so. The easiest way to do that is by using an awesome free utility called Autoruns.
3 – If your PC is running Windows 10 or Windows 11, make sure Fast Boot is enabled.
4 – Make sure your PC's boot drive is listed first on the Boot Priority list in your computer's BIOS.
You can enter the BIOS settings screen by pressing a special key at the very beginning of the boot process. Simply press the power button and watch the screen carefully for a message telling you which key to press to enter the BIOS.
Once you have the BIOS Settings menu on the screen, check the Boot Priority. If your boot drive isn't in the first position, put it there and then exit the BIOS Settings with the "Save Changes" option.
5 – Disable GUI Boot by pressing the Windows+R key combination, typing msconfig into the Run box, selecting the Boot tab and then checking No GUI Boot.
Turning off GUI Boot will shave a little extra off the boot time without giving up anything meaningful in return.
6 – Upgrade your computer's RAM. If it currently has just 4GB, doubling it to 8GB should result in an overall performance boost, including faster boot times. This post explains the various benefits of adding RAM to your PC.
7 – Replace your hard drive with a lightning-fast Solid State Drive (SSD). This is one upgrade that you should make above all others.
Replacing your boot hard drive with an SSD will put your PC on virtual steroids. This post explains why.
Bottom line: The steps listed above will make your computer boot up faster, and you'll reap a number of other benefits as well.