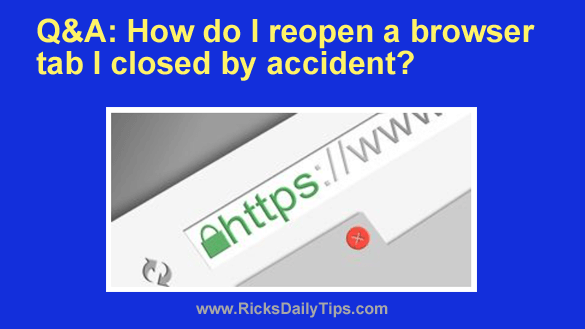 Question from Danielle:  Hello, Rick. I've been reading your blog for a long time now and it seems that I remember reading a post where you explained how to reopen a browser tab that was closed by accident. Am I right?
I close the wrong tab ALL THE TIME, and I'd really like to know how to open it back up!
I mostly use Chrome if that makes a difference. Thanks!!!!
Rick's answer:  You're right, Danielle. I did write a tip explaining how to reopen closed browser tabs. If you'd like to go back and read it, you'll find it right here.
In a nutshell, all you have to do is press the Ctrl+Shift+T key combination to reopen the last tab that was closed. Press Ctrl+Shift+T again and it'll reopen the tab that was closed before that one.
By the way, this method of restoring closed tabs works in all the major web browsers, not just Chrome.
This is a pretty handy tip to have at our disposal because we all close the wrong tab on occasion.
While we're on the subject of handy keyboard shut-cuts, here are a few more that work with all the most popular browsers:
Ctrl+Shift+Del – Quickly delete the cookies that have been stored by the browser.
Ctrl+ (The Ctrl key and the + key) – Zoom the page in and make the text larger.
Ctr- (The Ctrl key and the – key) – Zoom the page out and make the text smaller.
Ctrl+F5 – Force the browser to fetch a fresh copy of the currently displayed web page from the server instead of the browser's cache.
(Note: Use Ctrl+F5 if you believe a web page may have been updated or changed since it was last loaded into your browser. That will force the browser to reload the page from the website's server instead of from the browser's local cache.)
And here's another one that works Chrome and Opera…
Shift+Esc – Launch Chrome's own dedicated Task Manager.
I hope this helps, Danielle. Good luck!
Bonus tip: Read this post to learn how to find out if your web browser needs to be updated with just one click!
---