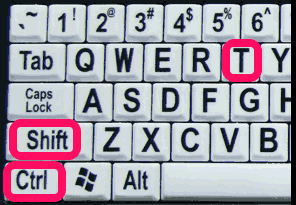 Have you ever had two or more tabs open in your web browser and closed one of them by accident, either with an errant mouse click or by simply closing the wrong one?
I do it all the time, and it used to frustrate me to no end. But now I simply work a quick bit of magic and the accidentally closed tab instantly reappears!
Well, truth be told it isn't really magic, but rather a "trick" using the keyboard:
Simply press the Ctrl + Shift + T key combination. (refer to the above image.)
The last tab you closed in your web browser should reopen with the web page that was displayed at the time of its untimely closure sitting there waiting for you to continue where you left off!
Repeat the process and the next to last tab you closed will reopen as well.
Pretty neat, huh?
And here's another little tidbit: This also works when you accidentally close your entire browser by accidentally clicking the little X up in the top-right corner of the window.
If you closed the browser by accident, just launch the browser again and press Ctrl+Shift+T to reopen the last-used tab!
This tip works with Microsoft Edge, Internet Explorer, Firefox, Opera and Chrome (and probably other browsers as well, but I have only tested it with these five).
Bonus tip #1: This post explains how to reopen an accidentally closed tab in Safari (on your iPhone or iPad).
Bonus tip #2: Want to make sure you never miss one of my tips? It's easy! Just…
Click here to sign up for my free Rick's Daily Tips Email Newsletter!
---
Would you like to ask Rick a tech question? If so, click here and send it in!
If you found this post useful, would you mind helping me out by sharing it? Just click one of the handy social media sharing buttons below. Thanks a bunch!