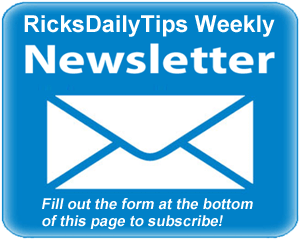 Windows 10 has now been out for well over a month, and I believe most of the bugs and kinks have been worked out by now.
If your PC is running either Windows 7 or Windows 8.1, you can give Windows 10 a try for free. If you don't like it you'll have 30 days to roll back to your previous Windows version.
You can install the free Windows 10 upgrade by clicking the "Get Windows Now" icon located in the lower right-hand corner of your screen. If you don't see the icon, make sure you have installed all available Windows updates, then look for the icon again. It should be there. 
Note: I recommend that you create a System Image Backup for your current Windows installation before upgrading to Windows 10 just in case something goes wrong with the upgrade process.
I love Windows 10, and chances are you will too. But if you give it a try and find that you'd rather go back to your previous version of Windows, you can easily do that ny following the instructions in this post.
After you have your system up and running Windows 10, here are a few posts that you might want to check out:
Special note: As a subscriber to the RicksDailyTips Tech Newsletter you are automatically entered to win one of my monthly tech gear giveaways. Monthly winners are announced in the first newsletter of the following month.
Not a subscriber? Fill out the short subscription form below to receive my weekly newsletter by email and be automatically entered for my monthly tech gear giveaways!
Well, that's it for this week! If you have tech question that you would like for me to answer, click here and send it in!
Thanks,
Rick
Website: www.RicksDailyTips.com
Follow me on Facebook: www.Facebook.com/RicksDailyTips
Follow me on Twitter: www.Twitter.com/RicksDailyTips