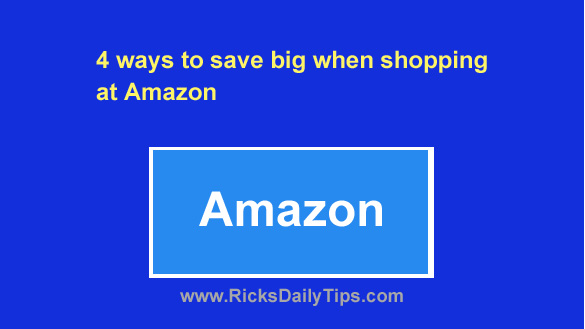 If you're a regular reader of this blog, you probably know that Amazon is my favorite online retailer, by far.
I got hooked on Amazon with my very first purchase. I not only saved a bundle off what I would have had to pay buying local, but the shopping experience itself was the best I had ever experienced on the web.
If you happen to enjoy shopping at Amazon as well, here are a few tips for saving even more on your purchases: 
Note: The links below will open in a new tab. That will make it easy to return to this page by simply closing each tab when you're finished with it.
1 – Save big on computers and tablets by shopping Amazon's Daily Deals. Each and every day Amazon discounts certain items in every category, and some of the biggest savings you're likely to find are on laptops, desktop computers and tablets.
2 – Use Amazon Coupons to take advantage of discounts that most Amazon customers don't even know exist. Whatever you happen to be shopping for, you're sure to find coupons that can save you some cash when you place your order.
3 – You can automatically save 5% on every single item you purchase from Amazon simply by using your free Amazon Prime Rewards Visa Card. What's more, you'll earn cash back on every other purchase you make with the card, regardless of where you happen to be shopping!
4 – Save up to 80% by shopping the Amazon Outlet Store. Like most other retailers, Amazon deeply discounts closeout items, refurbished gear, open box and used items. The selection and discounts available change daily, so be sure to check back often!
As you can see, it's easy to save money when shopping at Amazon once you know how to go about it. And their zero-hassle return policy makes it just as easy to return an item if that need arises.
Bottom line: Amazon offers a shopping experience that's second to none, and the tips mentioned above can help you save even more off their everyday low prices.
---
Never miss a tip!  Click here to sign up for my free Daily Tech Tips Email Newsletter!