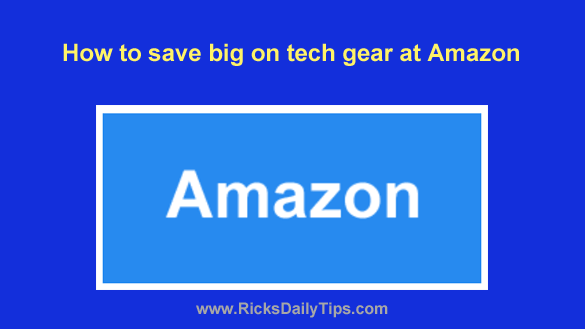 'Note: The links in this post are affiliate links.
Regular readers of this blog know that Amazon always has some great deals on computers and accessories, and I try to highlight as many of them here as I possibly can.
But did you know there's an easy way to get huge discounts on laptops, tablets and other tech gear every single day? What's more, you won't have to go searching for them.
The secret to finding these awesome deals isn't really a secret at all. In fact, Amazon links to these special deals right from the home page. Still, few people even know they exist.
What I'm talking about here is the Daily Deals
section of Amazon.com.
You can find Daily Deals on virtually any category of merchandise that Amazon sells, but since I deal primarily with tech gear on Rick's Daily Tips that's what I'll be highlighting in this post.
In a nutshell, the Daily Deals page lists a bunch of one-day specials offering discounts on select items that range anywhere from 20% to 60% – and even more in some cases!
Many of the items featured here are closeout items, so when they're gone, they're gone. If you see a laptop or tablet you like, it's a good idea to get it while you can because they're likely to be gone when you next return to Amazon.
Other daily deals are just that – one day "sales" on items that will go back to the regular price the next day.
Bottom line: If you're looking to pick up a computer, tablet or or other tech item at a huge discount, you owe it to yourself to check out Amazon's Daily Deals!
Click here
to check out today's Daily (computer) Deals. Once there, you can select other categories of items over on the left.
---