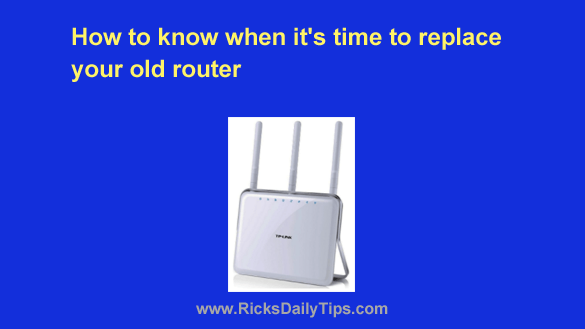 Note: The links in this post are affiliate links.
If you have a broadband Internet connection you probably use a router to share that connection among multiple computers and mobile devices.
I frequently receive emails from folks asking if I think they need to replace their aging routers, and I usually answer them by asking a few questions of my own: 
1 – Do you have an older N-class router that broadcasts a WiFi signal that's too weak to reach every room in your home where Internet access is needed?
If so, you might need a new, more powerful AC class router.
But before you go buy one there are some things you can try to make sure some other issue isn't causing the weak signal.
If you try all the things listed in the post I linked to above and your Wi-Fi signal is still too weak, you probably need to replace your aging router with a more powerful AC class router.
2 – Is your Wi-Fi signal pretty strong, but unreliable? If so, you probably should start shopping for a new router.
A Wi-Fi signal that varies greatly in strength or drops out completely at times is a primary symptom of a failing router. And if your router is failing, it definitely needs to be replaced.
3 – Does your router support the latest encryption standards? Does it support the fastest data transfer speeds supported by your devices AND your Internet connection?
If the answer to either of those questions is no, the money spent on a new router would probably be a great investment.
Truth be told, I think everyone should be using an AC class router these days, and you really can't upgrade an older router to the latest standards.
4 – Do you have a good AC class router that still isn't powerful enough to provide a usable Wi-Fi signal to the far reaches of your home?
If so, a new router likely won't do much for you, but replacing your existing router with a fantastic Netgear Orbi Tri-Band WiFi System definitely would.
5 – And now for a bonus tip: If you do end up buying a new router, you can easily (and cheaply) add a faster wired Ethernet or Wi-Fi adapter to your older computers to ensure that they'll be able to take advantage of the faster speeds supported by your new router.
Bottom line: If you're happy with the service you're getting from your current router AND it supports the latest encryption standards, you probably don't need to replace it with a newer model.
However, if you don't like the answer you had to give to any of the questions above, you probably need to upgrade a new AC class wireless router.
---
Never miss a tip!  Click here to sign up for my free Daily Tech Tips Email Newsletter!