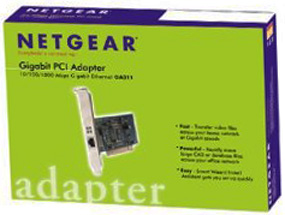 Question from Nina K.:   I have what's probably a really basic question about networking.
I just bought a new router that has 1 Gb wired Ethernet ports on it. My kids and I have three desktop PCs that were all wired to an older (and much slower) router.
Do I need to buy new Ethernet cables and network adapters for the PCs in order to take advantage of the much faster speed supported by the new router?
Rick's answer:  Hi Nina. Congrats on the new router!
The answer to your question is maybe. It all depends on what all you do with the computers. 
If all you and your kids do is get on the Internet for web surfing, Facebooking, emailing and chatting, then adding better cables and 1 Gb Ethernet adapters
(#ad) for your PCs won't really make a noticeable difference since your effective Internet speed is determined by the speed of your connection to your Internet Service Provider.
It makes no difference whether you have cable, DSL or Satellite Internet, the connection speed between your modem and your ISP is likely much slower than the existing 100 Mbs connection between your PCs and the new router.
In fact, even some consumer-level fiber Internet connections are slower than 100 Mbs. That means that regardless of the connection speeds between your computers and the router, the effective speed of your Internet connection is still going to be slower than 100 Mbs.
That being said, if you and your kids transfer lots of large files between your PCs or play peer-to-peer games over your local area network, then upgrading your older hardware to 1 Gbs will definitely make a big difference since you're connecting directly from PC to PC via the router's 1 Gbs ports.
Of course if your family is lucky enough to have a 1GB or faster Internet connection, by all means go ahead and upgrade your computers by adding 1GB Ethernet adapters. That's a no-brainer in my opinion.
But even if you do end up installing Gigabit Ethernet adapters in your PCs you probably don't really need to upgrade the cables as long as they are relatively short.
If you're running a cable the entire length of your house, then go ahead and replace that particular cable with a CAT 6e Ethernet cable
 (#ad).
Otherwise, don't waste money on new cables because the older ones will probably work just fine with little or no noticeable speed degradation.
If you notice that a particular PC's connection is lagging, you can always just replace that one Ethernet cable.
Update from Nina:  Thanks Rick. Based on your answer it appears that we'll be fine just keeping things as they are. I really appreciate your advice because you probably saved me a lot of money.
Bonus tip #1: This post explains why you need to lock down your Wi-Fi network to prevent strangers from piggy-backing off of it. It also explains how to find out if anyone is piggy-backing off of it right now!
Bonus tip #2: Want to make sure you never miss one of my tips? Click here to join my Rick's Tech Tips Facebook Group!
---
Would you like to ask Rick a tech question? If so, click here and send it in!
If you found this post useful, would you mind helping me out by sharing it? Just click one of the handy social media sharing buttons below. Thanks a bunch!