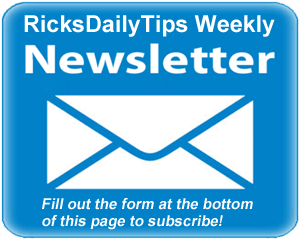 Hello again everyone. I hope you all had a great week!
Well, Windows 10 has been out for about nine months now, and I must say that the more I use it, the more I like it. I truly believe it's the best version of Windows that Microsoft has ever produced.
That being said, there are some issues with Windows 10 that range from mildly annoying to downright frustrating. I'd like to take this opportunity to discuss a few of them and provide some tips for mitigating them as much as possible. 
Note: The links below will open in a new window to make it easy to return to this page.
1 – I think it's really annoying how Microsoft keeps nagging us about sending them feedback about Windows 10. And apparently I'm not alone since I receive at least a couple of emails each week from readers complaining about the nagging and asking if there's a way to stop it.
Luckily, the answer is yes, and it's actually very easy. This post explains how to do it.
2 – Did you know that Microsoft is using your PC (and your Internet bandwidth) to help deliver Windows Updates to other users located all around the world? Well, it's true, and I find it both rude and intrusive.
If you agree that your computer and your Internet connection belong to you and your family and no one else, you can easily turn that "feature" off by following the simple steps in this post.
3 – As you probably know, Microsoft has disabled the F8 key for booting into "Safe Mode" in Windows 10. That makes it a lot more difficult to boot your PC into Safe Mode when something goes awry and the system won't boot into Windows as it usually does.
As luck would have it, there's a simple way to re-enable the F8 key for booting into Safe Mode in Windows 10. Just follow the steps listed in this post.
4 – I really like how the system notifications in Windows 10 "slide out" from the notification area, then disappear after a few seconds. But some folks are finding that the notifications often disappear from view before they have a chance to read them and digest what they said.
As with most every other Windows 10 annoyance, you can easily change the length of time that your notifications will remain in view. This post explains how.
5 – Microsoft REALLY wants your PC to download and install Windows Updates automatically in Windows 10. Unfortunately, that can cause serious problems for some users, and I'm often asked if there's a way to force Windows 10 to allow the user to download and install updates manually.
Although Microsoft seems to detest it, it is indeed possible to disable automatic updates in Windows 10. You'll find the instructions in this post.
6 – Windows 10 has a really attractive "Lock Screen" that shows up every time you turn on your computer or press Windows+L to lock it. But "impatient" users (like me) find the Lock Screen to be just an extra speed bump that we must deal with every time we want to log into our Windows account.
If you hate dealing with the Lock Screen as much as I do, you can disable it and have Windows take you straight to the Login screen (or even boot your PC directly into Windows if you don't have a password on your account). This post explains how to do it.
7 – Windows 10 boots up pretty fast, and it's relatively snappy in its overall performance. But there are a few tweaks you can make that will speed up the Windows user experience even more.
The short video in this post provides several tips for speeding up your Windows 10 installation.
Bonus tip – If you want to get the most out of Windows 10 and learn most of its many "ins and outs", I recommend that you get yourself a copy of "Windows 10 for Dummies".
Like virtually all the other "Dummies" books, this one is jam-packed with tips for learning everything you need to know in order to use the new Windows like a pro.
If you're interested in learning more, you can read my recent review of "Windows 10 for Dummies" right here.
Well, that's it for this week. If you have a tech question that you would like for me to answer, click here and send it in!
Special note: As a subscriber to the RicksDailyTips Tech Newsletter you're automatically entered to win one of my monthly Tech Gear Giveaways. Monthly winners are announced in the first newsletter of the following month.
Congrats to Jason G. of Brooklyn Park, Minnesota for winning the fantastic Intocircuit Power Castle PC26000 26000mAh External Battery Pack in March's Tech Gear Giveaway.
April's winner will receive a handy Seagate Expansion 4TB Desktop External Hard Drive.
Not a subscriber to my newsletter? Fill out the short subscription form below to receive my weekly newsletter by email and be automatically entered for my monthly Tech Gear Giveaways!
I hope you found this edition of the newsletter useful and interesting. If so, I hope you'll consider passing it on to any of your friends and associates who might enjoy reading it as well.
Thanks a bunch,
Rick Rouse
Website: www.RicksDailyTips.com
Follow me on Facebook: www.Facebook.com/RicksDailyTips
Follow me on Twitter: www.Twitter.com/RicksDailyTips