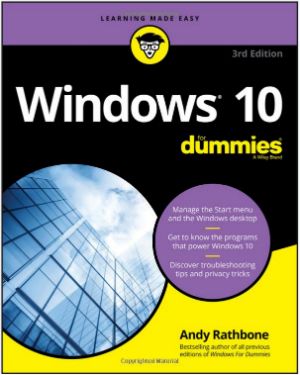 Note: The links in this post are affiliate links.
Folks often ask me to recommend a good book for helping them learn some new computer topic, and I almost always steer them towards the "for Dummies" series of books if there is a title available on the topic in question.
Although the titles in this series include the word "Dummies", these books don't speak down to readers or assume they are absolutely "clueless".
Instead, they present the material in a clear, easy-to-understand way so that anyone can learn what they need to learn about the topic as quickly and easily as possible, even if the reader does happen to be "clueless" about the topic.
Truth be told, I'm usually fairly clueless myself when I first set out to learn something new.
"Windows 10 For Dummies" is the latest in the long line of excellent "For Dummies" books, and I strongly recommend it for anyone who wishes to learn all the subtle (and not so subtle) ways that Windows 10 differs from its predecessors. 
In my opinion, author Andy Rathbone does an exceptional job at teaching every topic he has ever written about, and "Windows 10 For Dummies" is just as good as his previous works. It isn't perfect (no book is), but in my opinion it's the best book on Windows 10 out there for the average computer user.
Bottom line: If you want to learn the ins-and-outs of Windows 10 as quickly and easily as possible, I strongly recommend getting your hands on a copy of this book.
Click here to read more about "Windows 10 For Dummies" on Amazon.
Bonus tip: Want to make sure you never miss one of my tips? Click here to join my Rick's Tech Tips Facebook Group!
If Facebook isn't your cup of tea, I invite you to sign up for my Rick's Daily Tips Daily Update Newsletter.
---
Want to ask Rick a tech question? Click here and send it in!
If you found this post useful, would you mind helping me out by sharing it? Just click one of the handy social media sharing buttons below.