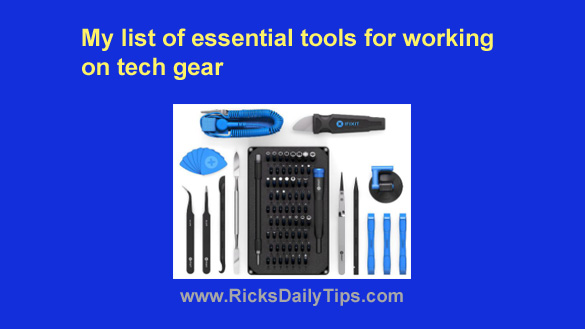 Note: The links in this post are affiliate links.
I'm often asked about the tools I keep on my tech bench, so I thought I'd take this opportunity to share that info with you today.
In times past, a technician could work on most any electronic device with little more than a couple of screwdrivers, a pair of needle-nose pliers, a multi-meter and a good soldering iron.
But unfortunately, those days are long gone…
Repairing items such as flat panel TV's, laptop computers, game consoles and mobile devices requires a number of specialized tools in order to even get inside the case without damaging anything.
And once you're inside the case, you'll need an array of different tools to test, disassemble and reassemble the intricate network of electronic parts. That's why I use and recommend the awesome iFixit Pro Tech Toolkit.
The handy toolkit includes probably 90% of the tools you'll need in order to troubleshoot, repair and upgrade computers, mobile devices and other types of electronic items. You'll find a complete list of the tools that are included in the kit on the page I linked to above.
In addition to the kit mentioned above, here are a few other must-haves:
USB to SATA Interface Adapter – These amazing devices are essential for those times when you have to replace a computer's hard drive or SSD. They make it easy to transfer the data from the old drive to a new one, and they can even be used to convert a spare internal drive into an external USB drive.
Digital Multimeter – Chances are you own one of these little jewels already since they come in handy when doing house/appliance and auto repairs. A good multimeter will allow you to check voltage and resistance levels and track down open or short circuits.
Battery Backup Device – If you have ever been installing an operating system or critical updates when the power went out, you know what a hassle that causes. That's why you should always have a computer plugged into a battery backup device while you're working on it and it's powered up and running.
Anti-Static Mat and Wrist Strap Combo – Static electricity can easily damage an electronic item or even destroy it outright if proper precautions aren't taken to prevent accidental static discharges when working on tech gear. It's wise to always use an anti-static mat and wrist strap when working inside a device, even if it's just something as simple as installing a RAM stick.
Soldering Iron – Unlike in days of old, we don't have to do much soldering anymore when working on tech items. But there are times when we do, so it's important to have a soldering on hand for those times.
Spare PC Power Cables,  USB Cables and Ethernet Cables – You never know when you'll need a spare cable to connect a computer to an electrical outlet, a battery backup device or some type of peripheral such as a printer or a router. And that goes double if you have people bringing equipment to you for upgrades or repairs.
Cans of Compressed Air or a Data Vac – Any time you open the case of a computer to work on it, it's a good idea to blow the dust out of it while you're in there. A thick layer of dust can restrict the air flow inside a computer, causing it to overheat and act erratically. I don't recommend using an air compressor to blow the dust out of computers for the reasons stated in the post I linked to above. That post also explains why I recommend using either a can of compressed air or a data vac.
Anti-Static Screen Wipes – Regular over-the-counter glass cleaning solutions such as Windex can damage the screens of TVs, monitors and mobile devices. That's why I recommend that you only use anti-static wipes that were specifically made for cleaning screens.
Online Technical and User Manuals – It always helps to have a manual on hand for any device that you happen to be working on, but you usually won't. But you will probably be able to download one for free from the manufacturer's website.
That pretty much covers the essential tools needed on most any tech bench. There are certainly others that come in handy on occasion, but the list above covers the basics.
---