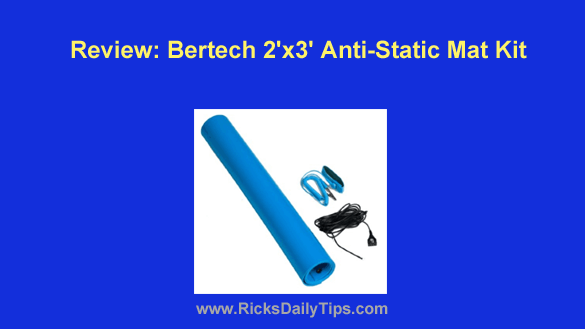 Click here to sign up for my free Rick's Tech Tips Newsletter!
---
Note: The links in this post are affiliate links.
If you work on computers or other electronic items, you really need a high-quality anti-static mat to protect your gear's sensitive electronic components from static electricity.
I've used a number of different anti-static mats over the years. Some of them were good, some of them not so good.
I'm always eager to try new out ones, and here's one of the best I've ever used: the Bertech 2'x3′ Anti-Static Mat Kit with Wrist Strap and Grounding Cord
.
When the package arrived, I opened up the box unrolled the mat.
Although it was tightly rolled and the ambient temp quite chilly, it took just a few minutes for it to begin laying nice and flat on my test bench.
I connected the "snap" end of the included grounding cord to the mat and the other end to the face plate screw on a nearby outlet.
Next, I clipped the alligator clip on the end of the wire on the wrist strap to the other snap on the anti-static mat.
Everything looked and worked great, although I would have preferred a wrist strap with a snap that matched the one on the mat instead of an alligator clip.
At 2'x3′, this anti-static mat is the perfect size for the work area of my test bench.
It easily holds a desktop PC (laid flat on its side) along with various tools, screws, and computer parts. Nothing is cramped and everything I need fits on there nicely.
Note: If this mat happens to be too large for your particular workspace, you can easily cut it to fit.
I was particularly impressed with the quality of the mat. It's made from a thick sheet of tough anti-static vinyl that I believe should last for several years even with moderate to heavy use.
Bottom line:  I believe this Bertech 2'x3′ antistatic mat is an excellent tool and a great value for the money.
Click here to read more about the Bertech 2'x3′ Anti-Static Mat Kit with Wrist Strap and Grounding Cord on Amazon.
---
Cick here to ask me a tech question.